Dexter Kruger



Kruger on 17 May 2021, being recognized as Australia's oldest man of all time

Birth:
13 January 1910
Kilcoy, Queensland, Australia
Death:
20 July 2021
Roma, Queensland, Australia
Age:
111 years, 188 days
Country:
AUS
Unvalidated
Dexter Kruger (13 January 1910 – 20 July 2021) was an Australian supercentenarian and author who was the oldest known living person in Australia and the oldest Australian man ever. His age is currently unvalidated by the Gerontology Research Group.
Biography
Early Life and Family
Kruger was born on 13 January 1910 in Nundah, Queensland, Australia. He grew up on the family property "Union Park", Kilcoy. He started selling cattle in his own name when he was 16, and acquired his own farmland in his twenties. He was a pioneer of the live-weight cattle selling system; in 1951, as a member of the United Graziers Association, he moved a motion to have live-weight scales installed in Cannon Hill, Queensland. He continued working as a farmer until he retired at the age of 95.
Kruger married Gladys Beanland in 1942, with whom he had one son, Greg. They were married for over 50 years before her death in the 1990s. Two of Kruger's cousins lived to 100, and his aunt lived to 103.
Later Life
Kruger lived on his own until the age of 103, when he moved into a care home in Roma, Queensland, Australia. A fellow resident at the home, Olive Reade, was four days younger than Kruger and they sometimes celebrated their birthdays together until Reade's death in November 2018.
Kruger was taken for a ride on a Harley Davidson motorcycle at the age of 106. In December 2018, a month before his 109th birthday, he was visited by Queensland Senator Amanda Stoker and Member of the Queensland Legislative Assembly Ann Leahy.
At the age of 110, Kruger was still exercising daily. On 13 January 2021, he celebrated his 111th birthday. After a brief illness, Kruger died on 20 July 2021 at the age of 111 years, 188 days.
Writing
Kruger started writing books at the age of 86, following the death of his wife. In total, he has written more than 300 stories in 12 books, plus his autobiography, "The Life and Times of Dexter Kruger", published on 17 May 2021. He has also written poetry. His books are available to purchase through his facebook page.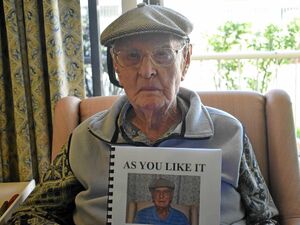 In May 2019, Queensland Premier Annastacia Palaszczuk purchased his collection of 12 books for permanent placement in the State Library of Queensland.
Media appearances
Kruger featured in a documentary called The 100+ Club, broadcast on Australian television in 2012, which followed the lives of Kruger and two other centenarians who lived active lives.
In 2013, Kruger was interviewed for the podcast 100 Not Out, in which he talked about his life, detailed his dietary habits, and read some of his own poetry.
In 2017, Kruger was interviewed as part of ABC's You Can't Ask That series, in which interviewees are asked questions that people might be afraid to ask. When asked about sex, Kruger said "I've only had one girl in my life. I think one is enough. One is enough at a time, anyway." He also stated that the telephone was the best invention he's seen during his lifetime, describing it as "like magic."
In June 2020, Kruger was interviewed for ABC's RN Drive programme after becoming a digital subscriber to his local newspaper, which had stopped its print editions as a cost-saving response to the COVID-19 pandemic.
Kruger will feature in a further documentary called The 110+ Club, to be broadcast on Australian television in August 2021.
Longevity Records
Kruger was originally believed to have become Australia's oldest living man following the death of Alfred Powell on 30 April 2017. However, it is now believed he gained this title upon the death of Hilton Nunn on 17 October 2017.
Kruger became the oldest living person in Australia after the death of Mabel Crosby on 29 December 2020, the first man to hold this title since John Campbell Ross in 2009. However, he has been the oldest known living Australian-born person since the death of Wilhelmina Overall on 21 October 2018, as Crosby was born in England.
After turning 110, Kruger became the fifth recorded male supercentenarian in the history of Australia, as well as the first from Queensland. On 17 May 2021, he surpassed the 21 year-long record of Jack Lockett and became the oldest man ever from Australia.
Gallery
References