Geneva Williamson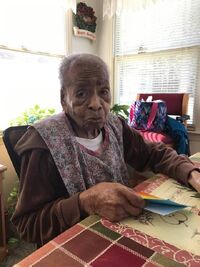 Williamson on her 110th birthday.
Unvalidated
Geneva "Eva" Williamson (née Alverson; born 7 November 1909) is an American supercentenarian whose age is currently unvalidated by the Gerontology Research Group (GRG).
Biography
Williamson was born Geneva Alverson in the United States, on 7 November 1909. She married Daniel Williamson (1900–1984).
Williamson currently lives in Reidsville, North Carolina, United States, at the age of 112 years, 79 days.
References