Katsue Kurimoto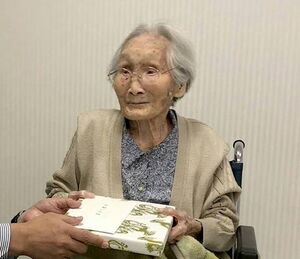 Kurimoto in October 2018, at the age of 111.
Validated
Katsue Kurimoto (Japanese: 栗本カツヱ; born 20 March 1907) is a Japanese supercentenarian whose age is validated by the Gerontology Research Group (GRG).
Biography
Kurimoto was born in Japan on 20 March 1907. Following the death of Kura Bingo on 31 October 2019, she became the oldest living person in Nara Prefecture.
Kurimoto currently lives in Gose, Nara Prefecture, Japan, at the age of 114 years, 306 days.
References