Line 23:
Line 23:
 

[[Category:Mauritius births]]

 

[[Category:Mauritius births]]

 

[[Category:Living people]]

 

[[Category:Living people]]

−

[[Category:Claim births in 1909]]

+

[[Category: in 1909]]
---
Revision as of 16:49, 21 March 2020
Kewal Parsad Bisnauthsing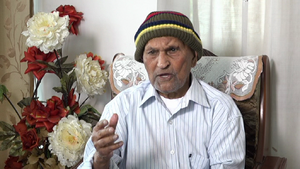 Bisnauthsing in September 2018.
Unvalidated
Kewal Parsad Bisnauthsing (born 10 October 1909?) is a Mauritian supercentenarian whose age is currently unvalidated by the Gerontology Research Group (GRG). He is the first (known) male supercentenarian claim from Mauritius.
References
Bisnauthsing claims to be born in Brisee-Verdiere, Mauritius, on 10 October 1909. His family was poor, so he had to start working as a child. He got married at the age of 20. Firstly, he worked as a farmer and later as a teacher in a Protestant school. He had 6 children (2 sons and 4 daughters). His eldest son died in 2001. His wife died at the age of 75.
Even at the age of 109, he still had good memory. He was able to remember his childhood, his youth, his married life and his friends. At that time, he had 11 grandchildren and 4 great-grandchildren. His daughter, Kreshna, was still alive at that time, at the age of 82. In 2018, he still prayed every morning before going to walk. He has always been a vegetarian, and likes to eat rice and farata. He doesn't smoke or drink alcohol. When asked about the secret of his longevity, he said he owes his long life to his strictly vegetarian diet, yoga exercises, as well as his "joie de vivre". He celebrated his claimed 110th birthday in October 2019.
Bisnauthsing currently lives in Brisee-Verdiere, Mauritius, at the claimed age of 112 years, 103 days. He currently lives with his son, Rajesh (aged 69 in 2018).
References