This is a list of supercentenarians born in 1872. As of 22 November 2021, 14 of them have been validated by the Gerontology Research Group (GRG). One person is pending as of March 2015.
There are 6 additional cases on the list for which research has been made, but whose claimed age has not yet been reviewed and processed by the GRG. This category is referred to as "unvalidated".
Cohort extinction took place on 31 December 1985 when Ollie Bay of United States passed away at the age of 113 years, 50 days.
List
      Validated       Unvalidated
| Rank | Name | Sex | Birth | Death | Age | Country |
| --- | --- | --- | --- | --- | --- | --- |
| 1 | Ollie Bay | F | 11 Nov 1872 | 31 Dec 1985 | 113 years, 50 days | USA |
| | Parewahawaha Ranginui Leonard [1] | F | 23 Sept 1872 | 29 Dec 1984 | 112 years, 97 days | NZL |
| | Sabina Zieg | F | 12 Nov 1872 | 1 Dec 1984 | 112 years, 19 days | USA |
| 2 | Linnie Jones | F | 22 Mar 1872 | 11 Feb 1984 | 111 years, 326 days | USA |
| | Elizabeth Munson | F | 6 May 1872 | 2 Feb 1984 | 111 years, 272 days | IRL |
| | Hattie Mitchell | F | 27 Feb 1872 | 22 Nov 1983 | 111 years, 268 days | USA |
| 3 | Floried Hillers | F | 1 Jan 1872 | 15 Apr 1983 | 111 years, 104 days | USA |
| 4 | Clara Willard | F | 2 Dec 1872 | 13 Mar 1984 | 111 years, 102 days | USA |
| 5 | Sarah Day | F | 23 Mar 1872 | 25 June 1983 | 111 years, 94 days | USA |
| 6 | Lilly Stuckenberg | F | 24 Mar 1872 | 14 June 1983 | 111 years, 82 days | USA |
| 7 | Sarah Isom | F | 17 Sept 1872 | 20 Sept 1983 | 111 years, 3 days | USA |
| 8 | Walter Wilcox | M | 1 Nov 1872 | 11 Aug 1983 | 110 years, 283 days | USA |
| | Lucy Reynolds | F | 18 Oct 1872 | 14 July 1983 | 110 years, 269 days | USA |
| 9 | James Nash | M | 31 July 1872 | 4 Mar 1983 | 110 years, 216 days | USA |
| 10 | Eva Bloodsworth | F | 3 Nov 1872 | 21 Apr 1983 | 110 years, 169 days | USA |
| 11 | Flore Belland | F | 6 Sept 1872 | 18 Feb 1983 | 110 years, 165 days | CAN |
| 12 | Martha Wood | F | 29 Mar 1872 | 29 Aug 1982 | 110 years, 153 days | USA |
| 13 | Mary Harlan | F | 27 Jan 1872 | 19 May 1982 | 110 years, 112 days | USA |
| | Anna Musick | F | 14 Oct 1872 | 11 Jan 1983 | 110 years, 89 days | USA |
| | Toka Miyata | F | 21 Jan 1872 | 27 Mar 1982 | 110 years, 65 days | JPN |
| | Walter Casey Jones | M | 5 Apr 1872 | 18 May 1982 | 110 years, 43 days | USA |
| 14 | Grace Spooner | F | 5 July 1872 | 24 July 1982 | 110 years, 19 days | USA |
Graph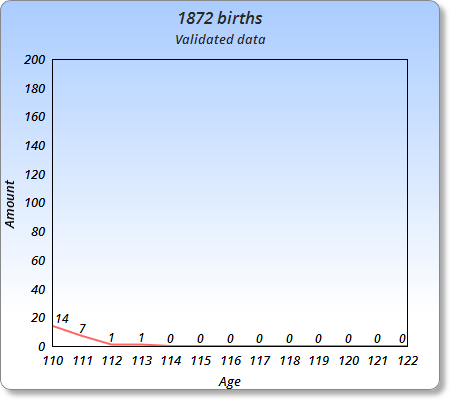 References