This is a list of supercentenarians born in 1875. As of 22 November 2021, 17 of them have been validated by the Gerontology Research Group (GRG).
Four people are currently pending as of March 2015, which means that there is sufficient evidence to support the claims, but the validation process has not yet been completed.
There are eight additional cases on the list for whom research has been made, but whose claims have not yet been reviewed and processed by the GRG. This category is referred to as "unvalidated".
Cohort extinction took place on 4 August 1997 when Jeanne Calment of France passed away at the age of 122 years, 164 days. As of 2019, 1875 remains the year in which the oldest validated human being in history was born.
List
      Validated       Validated (disputed)       Pending       Unvalidated
| Rank | Name | Sex | Birth | Death | Age | Country |
| --- | --- | --- | --- | --- | --- | --- |
| 1 | Jeanne Calment | F | 21 Feb 1875 | 4 Aug 1997 | 122 years, 164 days | FRA |
| | Mary Royster | F | 15 Apr 1875 | 28 Dec 1989 | 114 years, 257 days | USA |
| 2 | Lydie Vellard | F | 18 Mar 1875 | 17 Sep 1989 | 114 years, 183 days | FRA |
| | Loretta Sheehan | F | 7 Dec 1875 | 9 Mar 1989 | 113 years, 92 days | USA |
| 3 | Orpha Nusbaum | F | 13 Aug 1875 | 30 Mar 1988 | 112 years, 230 days | USA |
| 4 | Elzona Maxey | F | 30 Nov 1875 | 25 Apr 1988 | 112 years, 147 days | USA |
| 5 | Bertha Blair | F | 30 Dec 1875 | 9 Feb 1988 | 112 years, 41 days | USA |
| | Margaret Taylor | F | 25 Apr 1875 | 30 Mar 1987 | 111 years, 339 days | UK USA |
| 6 | Joe Thomas | M | 1 May 1875 | 14 Dec 1986 | 111 years, 227 days | USA |
| 7 | Herman Smith-Johannsen | M | 15 June 1875 | 5 Jan 1987 | 111 years, 204 days | NOR |
| 8 | Johanna Frank | F | 15 Sep 1875 | 14 Nov 1986 | 111 years, 70 days | GERUSA |
| 9 | Annie Cawthorne | F | 18 Jan 1875 | 18 Mar 1986 | 111 years, 59 days | USA |
| 10 | Ine Tsugawa | F | 3 Apr 1875 | 21 May 1986 | 111 years, 48 days | JPN |
| | Charlotte Pritchett | F | 8 Feb 1875 | 24 Dec 1985 | 110 years, 319 days | USA |
| | Maude Snyder | F | 11 Nov 1875 | 3 Sep 1986 | 110 years, 296 days | USA |
| | Lilly Barnes | F | 5 Nov 1875 | 6 May 1986 | 110 years, 182 days | USA |
| | Mary Ann Essery | F | 14 July 1875 | 4 Jan 1986 | 110 years, 174 days | UK CAN |
| 11 | Margaretha Eijken | F | 12 Nov 1875 | 1 May 1986 | 110 years, 170 days | NED |
| 12 | Laura Jobe | F | 5 Jan 1875 | 21 June 1985 | 110 years, 167 days | USA |
| 13 | Amelia Schmidt | F | 7 Sep 1875 | 17 Feb 1986 | 110 years, 163 days | USA |
| | Anna Trembly | F | 3 Dec 1875 | 8 Apr 1986 | 110 years, 126 days | USA |
| | Annie Keaton | F | 6 Nov 1875 | 22 Feb 1986 | 110 years, 108 days | USA |
| 14 | Ida Ellington Williams | F | 1 July 1875 | 21 Sep 1985 | 110 years, 82 days | USA |
| | Ida Bowman | F | 31 Mar 1875 | 6 May 1985 | 110 years, 36 days | CAN |
| | Dicie Dodson | F | 23 July 1875 | 28 Aug 1985 | 110 years, 36 days | USA |
| 15 | Pearl Wolcott | F | 13 July 1875 | 16 Aug 1985 | 110 years, 34 days | USA |
| | Anna Rohling | F | 12 July 1875 | 15 Aug 1985 | 110 years, 34 days | CZEUSA |
| | Louisa Hatcher | F | 10 Aug 1875 | 2 Sep 1985 | 110 years, 23 days | USA |
| | Mary Lawrence | F | 28 Oct 1875 | 12 Nov 1985 | 110 years, 15 days | USA |
| 16 | Annie Keeney | F | 8 Mar 1875 | 12 Mar 1985 | 110 years, 4 days | USA |
Graph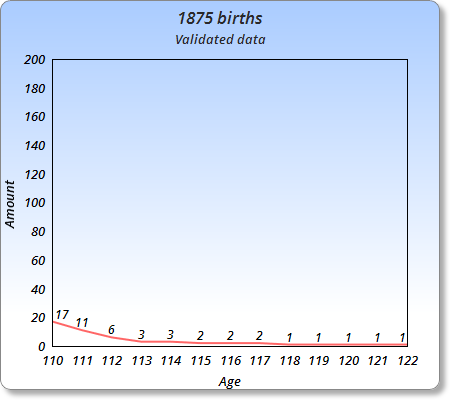 References