This is a list of supercentenarians born in 1879. As of 16 January 2022, 25 of them have been verified by the GRG. 3 people are currently pending as of January 2015, which means that there is sufficient evidence to support the claims, but the verification process has not yet been completed.
There are 7 additional cases on the list for which research has been made, but whose claims have not yet been reviewed and processed by the GRG. This category is referred to as "unverified".
Cohort extinction took place on 12 July 1995 when Tane Ikai of Japan died at the age of 116 years, 175 days.
List
      Validated       Pending       Unvalidated
| Rank | Name | Sex | Birth | Death | Age | Country |
| --- | --- | --- | --- | --- | --- | --- |
| 1 | Tane Ikai | F | 18 Jan 1879 | 12 July 1995 | 116 years, 175 days | JPN |
| 2 | Rosa Comfort | F | 21 Jan 1879 | 6 Nov 1992 | 113 years, 290 days | UK |
| 3 | Lillian Ross | F | 24 Aug 1879 | 20 Mar 1993 | 113 years, 208 days | CAN |
| 4 | Cora Humphrey | F | 4 Sept 1879 | 1 Nov 1992 | 113 years, 58 days | USA |
| | Helen Obermayer | F | 20 Jan 1879 | 20 Nov 1991 | 112 years, 304 days | HUNUSA |
| 5 | Sadie Mayer | F | 7 Nov 1879 | 7 Aug 1992 | 112 years, 274 days | USA |
| 6 | Katherine Jones | F | 20 Aug 1879 | 27 Apr 1992 | 112 years, 241 days | USA |
| | Lillie Gaddy | F | 24 July 1879 | 13 Jan 1992 | 112 years, 173 days | USA |
| | Take Abe [1] | F | 31 July 1879 | 17 Oct 1991 | 112 years, 78 days | JPN |
| 7 | James Wiggins | M | 15 Oct 1879 | 16 Oct 1991 | 112 years, 1 day | USA |
| 8 | Mathilde Gauchou | F | 19 Mar 1879 | 30 Dec 1990 | 111 years, 286 days | FRA |
| | Florence Rowland | F | 16 Mar 1879 | 26 Dec 1990 | 111 years, 285 days | USA |
| 9 | Lottie Lewis | F | 4 May 1879 | 30 Dec 1990 | 111 years, 240 days | USA |
| | Alice Barwise | F | 6 Feb 1879 | 8 July 1990 | 111 years, 152 days | USA |
| 10 | Dollie Bushey | F | 17 Feb 1879 | 8 May 1990 | 111 years, 80 days | USA |
| | Fuyo Baba | F | 10 Jan 1879 | 16 Feb 1990 | 111 years, 37 days | JPN |
| 11 | Edith Land | F | 20 Feb 1879 | 19 Feb 1990 | 110 years, 364 days | USA |
| 12 | Eiju Tsuru | M | 4 Feb 1879 | 11 Jan 1990 | 110 years, 341 days | JPN |
| | Rosa Rader | F | 27 Mar 1879 | 1 Feb 1990 | 110 years, 311 days | USA |
| 13 | Katherine Aiken | F | 24 Mar 1879 | 12 Jan 1990 | 110 years, 294 days | USA |
| | Clara Gould | F | 16 Mar 1879 | 27 Dec 1989 | 110 years, 286 days | USA |
| 14 | Galo Leoz | M | 22 Apr 1879 | 23 Jan 1990 | 110 years, 276 days | ESP |
| 15 | Mary Bodie | F | 15 Mar 1879 | 10 Dec 1989 | 110 years, 270 days | USA |
| 16 | A.L.M. | M | 11 Apr 1879 | 1 Jan 1990 | 110 years, 265 days | ESP |
| 17 | Henri Perignon | M | 14 Oct 1879 | 18 June 1990 | 110 years, 247 days | FRA |
| | Francesca Adelfio | F | 4 Mar 1879 | 4 Nov 1989 | 110 years, 245 days | ITA |
| | Emma Lee | F | 14 Oct 1879 | 16 May 1990 | 110 years, 241 days | GERUSA |
| 18 | Laura Dunlap | F | 16 July 1879 | 28 Feb 1990 | 110 years, 227 days | USA |
| 19 | Laura Scales | F | 13 Nov 1879 | 12 June 1990 | 110 years, 211 days | USA |
| 20 | Martha Sagendorph | F | 22 Feb 1879 | 30 June 1989 | 110 years, 128 days | USA |
| 21 | Ida Ereon | F | 18 Feb 1879 | 22 June 1989 | 110 years, 124 days | USA |
| 22 | R.P.M. | F | 24 May 1879 | 8 Sept 1989 | 110 years, 107 days | ESP |
| 23 | Ida Alligier | F | 27 Sept 1879 | 30 Nov 1989 | 110 years, 64 days | USA |
| | Mary Horton | F | 4 Feb 1879 | 26 Feb 1989 | 110 years, 22 days | UK CAN |
| 24 | Aasne Hustveit | F | 2 Dec 1879 | 17 Dec 1989 | 110 years, 15 days | NOR |
| | Toki Sakaura | F | 15 Feb 1879 | 22 Feb 1989 | 110 years, 7 days | JPN |
| 25 | Zoe Hiehle | F | 19 Aug 1879 | 25 Aug 1989 | 110 years, 6 days | UK USA |
Graph
(25-10-7-4-1-1-1)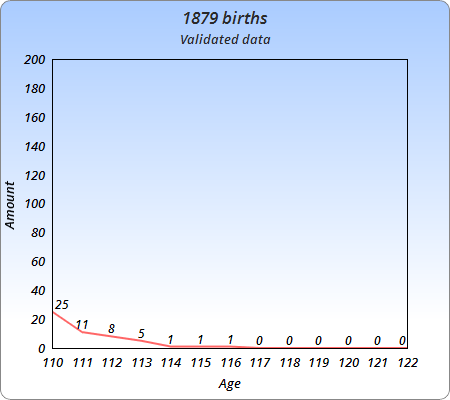 References