This is a list of supercentenarians born in 1883. As of 16 January 2022, 38 of them have been verified by the GRG. 2 people are currently pending as of February 2015, which means that there is sufficient evidence to support the claims, but the verification process has not yet been completed.
There are 12 additional cases on the list for which research has been made, but whose claims have not yet been reviewed and processed by the GRG. This category is referred to as "unverified".
Finally, there is one incomplete limbo case whose date of death is unknown.
Cohort extinction took place on 9 December 1997 when Lucy Jane Askew of United Kingdom died at the age of 114 years, 92 days.
List
      Validated       Pending       Unvalidated
Rank
Name
Sex
Birth
Death
Age
Country
1
Lucy Askew
F
8 Sept 1883
9 Dec 1997
114 years, 92 days
UK
2
Maria del Carmen Lopez
F
3 Apr 1883
3 July 1997
114 years, 91 days
ESP
3
Carmen Figueiro
F
28 Oct 1883
25 May 1997
113 years, 209 days
ESP
4
Jane Markle
F
10 Oct 1883
12 Mar 1997
113 years, 153 days
USA
5
Adelheid Kirschbaum
F
29 Sept 1883
21 Dec 1996
113 years, 83 days
GERUSA
6
Annie Scott
F
15 Mar 1883
21 Apr 1996
113 years, 37 days
UK
Rachel Wieselberg
F
23 June 1883
6 June 1996
112 years, 349 days
LAT UK
7
Victoria Evinger
F
1 Feb 1883
26 Aug 1995
112 years, 206 days
USA
8
Mary Stout
F
4 June 1883
25 Dec 1995
112 years, 205 days
USA
9
Marguerite Petit
F
3 July 1883
21 Dec 1995
112 years, 171 days
FRA
10
Chelidonia Merosi
F
11 Oct 1883
10 Dec 1995
112 years, 60 days
ITA
Sidney Harvey
F
5 May 1883
7 May 1995
112 years, 2 days
USA
Georgia Cooper
F
19 Oct 1883
6 Oct 1995
111 years, 352 days
USA
Maggie Mason
F
7 Nov 1883
24 Oct 1995
111 years, 351 days
USA
11
Etta Long
F
27 Feb 1883
6 Feb 1995
111 years, 344 days
USA
12
Flora Curren
F
4 June 1883
18 Apr 1995
111 years, 318 days
USA
13
Nellie Swayne
F
13 Dec 1883
14 Sept 1995
111 years, 275 days
USA
14
Bertha Cole
F
28 Feb 1883
19 Aug 1994
111 years, 172 days
USA
15
Mary Davenport
F
1 Aug 1883
29 Dec 1994
111 years, 150 days
USA
16
Louise Gibson
F
7 Aug 1883
2 Jan 1995
111 years, 148 days
CANUSA
Lundia Suggs
F
10 May 1883
12 Sept 1994
111 years, 125 days
USA
17
Annie Townsend
F
20 May 1883
11 Sept 1994
111 years, 114 days
UK
18
Manolita Pina-Torres
F
24 Feb 1883
11 June 1994
111 years, 107 days
ESPURU
19
Lucy Barney
F
20 Nov 1883
22 Feb 1995
111 years, 94 days
USA
Mine Muto
F
14 Dec 1883
2 Mar 1995
111 years, 78 days
JPN
Suu Yamada
F
16 Jan 1883
26 Mar 1994
111 years, 69 days
JPN
20
Lucia Prata
F
20 Oct 1883
15 Oct 1994
110 years, 360 days
ITA USA
21
Charles Shebanek
M
9 Sept 1883
27 Aug 1994
110 years, 352 days
USA
Alice Woolley
F
1 July 1883
22 Mar 1994
110 years, 265 days
UK CAN
22
Mary Fillebrown
F
19 Jan 1883
22 Sept 1993
110 years, 246 days
USA
Anna Downing
F
6 Jan 1883
7 Sept 1993
110 years, 244 days
USA
23
Juliette Baudouin
F
19 Feb 1883
24 Aug 1993
110 years, 186 days
FRA
24
Katharine Davenport
F
31 Mar 1883
29 Sept 1993
110 years, 182 days
USA
25
Vincenzo Izzillo
M
29 July 1883
23 Jan 1994
110 years, 178 days
ITA USA
26
Nettie Lowe
F
18 June 1883
9 Dec 1993
110 years, 174 days
USA
27
Josie Bullington
F
26 Sept 1883
18 Feb 1994
110 years, 145 days
USA
Effie Chapman
F
14 Apr 1883
28 Aug 1993
110 years, 136 days
USA
28
Edith Freehling
F
12 Sept 1883
29 Dec 1993
110 years, 108 days
USA
29
Marthe Bellecour
F
18 Apr 1883
4 Aug 1993
110 years, 108 days
FRA
30
Dora Decker
F
26 May 1883
31 Aug 1993
110 years, 97 days
USA
Joe Carter
M
10 Mar 1883
20 May 1993
110 years, 71 days
USA
Kamado Nakama
F
14 May 1883
8 July 1993
110 years, 55 days
JPN
31
Ethel Maunder
F
18 Dec 1883
11 Feb 1994
110 years, 55 days
UK
32
Clara Sather
F
20 Mar 1883
8 May 1993
110 years, 49 days
USA
Nettie Patch
F
5 Mar 1883
9 Apr 1993
110 years, 35 days
CANUSA
Sada Hata
F
1 Dec 1883
5 Jan 1994
110 years, 35 days
JPN
Kami Higa
F
10 Oct 1883
13 Nov 1993
110 years, 34 days
JPN
33
Giuseppa Spolitu
F
12 Sept 1883
16 Oct 1993
110 years, 34 days
ITA
Maude Williams
F
23 Oct 1883
26 Nov 1994
110 years, 34 days
USA
Marie Bouvier
F
26 Nov 1883
30 Dec 1993
110 years, 34 days
FRA
36
Mary O'Sullivan
F
14 Mar 1883
12 Apr 1993
110 years, 29 days
USA
Lavalette Lamb
F
29 May 1883
25 June 1993
110 years, 27 days
AUS
37
A.A.M.
F
21 Nov 1883
25 Nov 1993
110 years, 4 days
ESP
38
Maude Varnum
F
19 Dec 1883
21 Dec 1993
110 years, 2 days
USA
Incomplete Claims
      Validated       Pending       Unvalidated
| Name | Sex | Birth | Death | Age | Country |
| --- | --- | --- | --- | --- | --- |
| Taka Katsunuma | F | 28 Apr 1883 | Dec 1993 | 110 years, 217-247 days | JPN |
Graph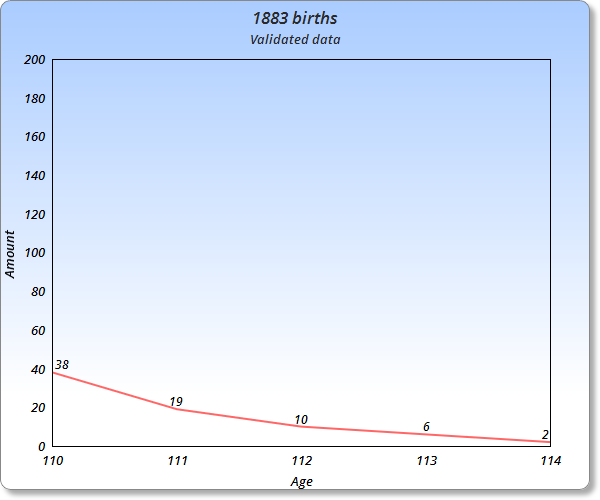 References