We're Getting Mutants in the MCU - The Loop
Play Sound
This is a list of supercentenarians born in 1885. As of 4 August 2022, 46 of them have been validated by the GRG. 6 people are currently pending as of January 2015, which means that there is sufficient evidence to support the claims, but the validation process has not yet been completed.
There are 10 additional cases on the list for which research has been made, but whose claims have not yet been reviewed and processed by the GRG. This category is referred to as "unvalidated".
Cohort extinction took place on 2 November 2000 when Eva Morris of United Kingdom died at the age of 114 years, 360 days.
List
      Validated       Pending       Unvalidated
Rank
Name
Sex
Birth
Death
Age
Country
1
Eva Morris
F
8 Nov 1885
2 Nov 2000
114 years, 360 days
UK
2
Myrtle Dorsey
F
22 Nov 1885
25 June 2000
114 years, 216 days
USA
3
Minnie Ward
F
19 Nov 1885
2 Dec 1999
114 years, 13 days
USA
4
Yasu Akino
F
1 Mar 1885
12 Feb 1999
113 years, 348 days
JPN
5
Walter Richardson
M
7 Nov 1885
25 Dec 1998
113 years, 48 days
USA
6
Ruby Gilliam
F
21 Sept 1885
22 Oct 1998
113 years, 31 days
UK
7
Tase Hayasaka
F
1 July 1885
23 July 1998
113 years, 22 days
JPN
Cristina Collado
F
6 Nov 1885
22 Nov 1998
113 years, 16 days
PRI,USA
USA
8
Bertha Flathers
F
30 Mar 1885
21 Nov 1997
112 years, 236 days
USA
Laura Foote
F
16 June 1885
2 Feb 1998
112 years, 231 days
USA
9
Mary Arp
F
4 July 1885
18 Jan 1998
112 years, 198 days
USA
10
Shizue Hasegawa
F
27 Jan 1885
31 July 1997
112 years, 185 days
JPN
11
Nellie Richards
F
14 Aug 1885
13 Jan 1998
112 years, 152 days
USA
Clara Mackenzie
F
7 Oct 1885
5 Mar 1998
112 years, 149 days
CANUSA
12
Kathryn Bassich
F
26 July 1885
6 July 1997
111 years, 345 days
USA
13
Susie Nelson
F
12 Nov 1885
18 Oct 1997
111 years, 340 days
USA
Arthur Nash
M
7 Jan 1885
4 Nov 1996
111 years, 302 days
UK CAN
14
Masaki Moriyama
F
21 Dec 1885
14 Sept 1997
111 years, 267 days
JPN
15
Mary Heitzig
F
13 Apr 1885
30 Dec 1996
111 years, 261 days
USA
Minnie Mudie
F
18 Nov 1885
27 July 1997
111 years, 251 days
CAN
16
Clarina Ragland
F
28 June 1885
18 Feb 1997
111 years, 235 days
USA
17
Claire O'Rourke
F
23 Jan 1885
26 June 1996
111 years, 155 days
USA
Frances Darby
F
28 Dec 1885
28 May 1997
111 years, 152 days
USA
18
Karolina Kruger
F
17 Feb 1885
3 July 1996
111 years, 137 days
GER
Ada Stockdale
F
14 Feb 1885
24 June 1996
111 years, 131 days
UK AUS
19
Sarah Saggs
F
17 Oct 1885
15 Feb 1997
111 years, 121 days
USA
20
Jessie Smith
F
28 Jan 1885
7 Feb 1996
111 years, 10 days
USA
Nels Berger
M
20 Oct 1885
22 Sept 1996
110 years, 338 days
NORUSA
21
Estella Kingsbury
F
28 Mar 1885
20 Feb 1996
110 years, 329 days
USA
22
Mabel Greenwald
F
7 Feb 1885
30 Dec 1995
110 years, 326 days
USA
23
Ada Cleggett
F
27 Jan 1885
8 Dec 1995
110 years, 315 days
AUS
24
Emma Ricks
F
30 Dec 1885
8 Nov 1996
110 years, 314 days
USA
Frances Nickels
F
21 May 1885
29 Mar 1996
110 years, 313 days
USA
25
Minnie Davenport
F
21 Mar 1885
19 Jan 1996
110 years, 304 days
USA
26
Bertha Pautz
F
20 Dec 1885
16 Oct 1996
110 years, 301 days
USA
27
Elsie Day
F
16 Dec 1885
26 Sept 1996
110 years, 285 days
UK
28
Adelia Mead
F
14 Feb 1885
10 Nov 1995
110 years, 269 days
USA
Rui Maruyama
F
20 Aug 1885
26 Apr 1996
110 years, 250 days
JPNUSA
29
Anna Cone
F
20 Sept 1885
3 May 1996
110 years, 226 days
USA
30
Cornelia Hendrikse-Maas
F
2 Dec 1885
15 July 1996
110 years, 226 days
NED
31
Bernard Delhom
M
8 July 1885
7 Feb 1996
110 years, 213 days
FRA
Jennie Stuckey
F
27 Apr 1885
15 Nov 1995
110 years, 202 days
USA
32
Johanna van Dommelen-Hamer
F
20 Oct 1885
7 May 1996
110 years, 200 days
NED
Kame Komatsu
F
16 Sept 1885
25 Mar 1996
110 years, 191 days
JPNUSA
33
Franziska Umrath
F
5 Sept 1885
18 Feb 1996
110 years, 166 days
POLGER
34
Ada Freeman
F
28 Dec 1885
28 May 1996
110 years, 152 days
USA
35
Rufus Clansy
M
27 Mar 1885
17 Aug 1995
110 years, 143 days
USA
Jennie Weeden
F
2 July 1885
27 Oct 1995
110 years, 117 days
USA
36
Charlotte Pike
F
1 Aug 1885
20 Nov 1995
110 years, 111 days
USA
Ethel Rawles
F
15 Apr 1885
5 Aug 1995
110 years, 109 days
USA
37
Laura Spyker
F
2 Sept 1885
19 Dec 1995
110 years, 108 days
USA
38
Anna Mueller
F
27 Aug 1885
10 Dec 1995
110 years, 105 days
USA
39
Elisa Cubells
F
20 Aug 1885
16 Nov 1995
110 years, 88 days
ESPFRA
Theresa Prem
F
19 Feb 1885
9 June 1995
110 years, 80 days
USA
40
Anna Poirier
F
10 Nov 1885
28 Jan 1996
110 years, 79 days
CAN
41
Gertrude German
F
5 Oct 1885
18 Dec 1995
110 years, 74 days
UK
Alieux Card
F
7 Apr 1885
20 June 1995
110 years, 74 days
CANUSA
42
Ersilia de Costanzo
F
8 Aug 1885
4 Oct 1995
110 years, 57 days
ITA
43
Minnie Satchell
F
12 June 1885
1 Aug 1995
110 years, 50 days
USA
44
Mabel Hampshire
F
14 Sept 1885
19 Oct 1995
110 years, 35 days
UK
45
Ann Flower
F
8 July 1885
9 Aug 1995
110 years, 32 days
NED
46
Margaret Jones
F
25 Oct 1885
25 Nov 1995
110 years, 31 days
USA
Graph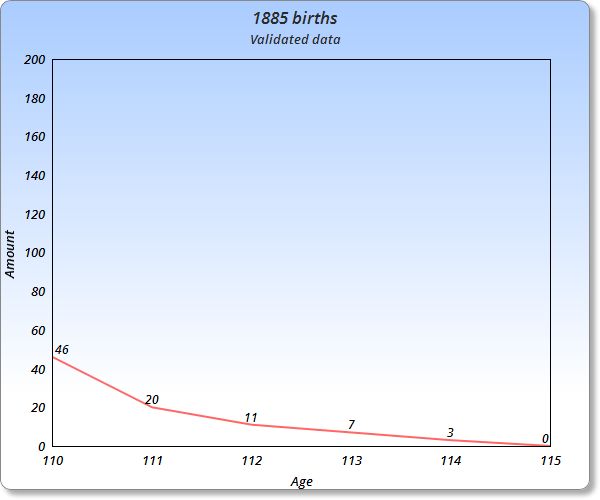 References