This is a list of supercentenarians born in 1899. As of 16 January 2022, 100 of them have been validated by the GRG (four of whom are in limbo). 12 people are currently pending as of March 2015 (one of whom is in limbo), which means that there is sufficient evidence to support their claim, but the validation process has not yet been completed.
There are 28 additional cases (six in limbo) on the list for which research has been made, but whose claimed age has not yet been reviewed and processed by GRG. This category is referred to as "unvalidated".
Cohort extinction took place on 15 April 2017, when Emma Morano of Italy died at the age of 117 years, 137 days. Morano, as well as being the last person from 1899, was also the last surviving validated person from the 1800s altogether.
List
      Validated       Pending       Unvalidated
Rank
Name
Sex
Birth
Death
Age
Country
1
Emma Morano
F
29 Nov 1899
15 Apr 2017
117 years, 137 days
ITA
2
Susannah Mushatt Jones
F
6 July 1899
12 May 2016
116 years, 311 days
USA
3
Jeralean Talley
F
23 May 1899
17 June 2015
116 years, 25 days
USA
4
Bernice Madigan
F
24 July 1899
3 Jan 2015
115 years, 163 days
USA
5
Naomi Conner
F
30 Aug 1899
18 Oct 2013
114 years, 49 days
USA
6
Soledad Mexia
F
13 Aug 1899
30 Aug 2013
114 years, 17 days
MEXUSA
7
Maria Redaelli
F
3 Apr 1899
2 Apr 2013
113 years, 364 days
ITA
8
Elsie Thompson
F
5 Apr 1899
21 Mar 2013
113 years, 350 days
USA
9
Grace Jones
F
7 Dec 1899
14 Nov 2013
113 years, 342 days
UK
10
Evelyn Kozak
F
14 Aug 1899
11 June 2013
113 years, 301 days
USA
11
Louisiana Hines
F
13 Apr 1899
1 Feb 2013
113 years, 294 days
USA
12
Mitsue Nagasaki
F
18 Sept 1899
17 June 2013
113 years, 272 days
JPN
13
Beryl Kapaun
F
4 June 1899
7 Nov 2012
113 years, 156 days
USA
14
Terue Ashida
F
20 Sept 1899
15 Feb 2013
113 years, 148 days
JPN
15
Tome Takaoka
F
1 Jan 1899
12 Apr 2012
113 years, 102 days
JPN
16
Kame Takamiyagi
F
10 June 1899
10 Sept 2012
113 years, 93 days
JPN
17
Hina Shikawatari
F
1 Jan 1899
15 Feb 2012
113 years, 45 days
JPN
18
Cora Hansen
F
25 Mar 1899
18 Apr 2012
113 years, 24 days
USACAN
Nettie Whittington
F
31 Oct 1899
24 Nov 2012
113 years, 24 days
USA
Ksenija Mitusova
F
10 Feb 1899
6 Jan 2012
112 years, 334 days
LAT
Sum Ying Fung
F
27 Jan 1899
6 Dec 2011
112 years, 313 days
CHNCAN
20
Suma Tamagawa
F
14 Mar 1899
23 Dec 2011
112 years, 284 days
JPN
Pearl Lutzko
F
15 Feb 1899
2 Nov 2011
112 years, 260 days
UKRCAN
21
Takeno Fujita
F
1 Dec 1899
3 Aug 2012
112 years, 246 days
JPN
22
Ine Atarashiya
F
6 Sept 1899
8 May 2012
112 years, 245 days
JPN
23
Emelie Weil
F
20 Nov 1899
2 July 2012
112 years, 225 days
USA
24
Usa Higa
F
21 Mar 1899
7 Oct 2011
112 years, 200 days
JPN
25
Violet Wood
F
2 Sept 1899
29 Feb 2012
112 years, 180 days
UK
26
Meta Ilten
F
7 Sept 1899
9 Feb 2012
112 years, 155 days
USA
27
Ruth Anderson
F
24 July 1899
20 Dec 2011
112 years, 149 days
USA
28
Santa Gennari
F
23 Feb 1899
18 June 2011
112 years, 115 days
ITA
29
Miriam Schmierer
F
20 Aug 1899
29 Sept 2011
112 years, 40 days
AUS
30
Angela Case
F
21 July 1899
17 Aug 2011
112 years, 27 days
ITA
Emma Jefferies
F
11 Aug 1899
20 Aug 2011
112 years, 9 days
USA
31
Margaret Fish
F
7 Mar 1899
12 Mar 2011
112 years, 5 days
UK
32
Hatsuno Tanaka [1]
F
20 May 1899
29 Mar 2011
111 years, 313 days
JPN
33
Beatrice Lawson
F
23 Dec 1899
24 Oct 2011
111 years, 305 days
USA
34
Kou Minakuchi
F
18 Oct 1899
10 Aug 2011
111 years, 296 days
JPN
35
Elsie Steele
F
6 Jan 1899
18 Oct 2010
111 years, 285 days
UK
36
Jewell Stehlik
F
25 Oct 1899
26 July 2011
111 years, 274 days
USA
37
Edna New
F
12 Oct 1899
23 June 2011
111 years, 254 days
USA
38
Maria Ciuffreda
F
21 June 1899
28 Feb 2011
111 years, 252 days
ITA
Besse Reed
F
19 Dec 1899
27 July 2011
111 years, 220 days
USA
39
Adrienne Ledent
F
13 Dec 1899
23 June 2011
111 years, 192 days
BEL
40
Kana Nagamine
F
13 Nov 1899
23 May 2011
111 years, 191 days
JPN
41
Catherine Soiron
F
31 July 1899
31 Jan 2011
111 years, 184 days
FRA
42
Fannie Buten
F
13 Apr 1899
24 Sept 2010
111 years, 164 days
POLUSA
43
Sakura Kishi
F
28 Sept 1899
24 Feb 2011
111 years, 149 days
JPN
44
Ura Karazawa
F
8 July 1899
21 Nov 2010
111 years, 136 days
JPN
45
Ruth Clark
F
1 Aug 1899
6 Dec 2010
111 years, 127 days
USA
46
Mollye Marcus
F
18 Oct 1899
18 Feb 2011
111 years, 123 days
BLRUSA
Maria Virginia Pestana
F
3 Apr 1899
1 Aug 2010
111 years, 120 days
POR
47
Catherine Masters
F
23 Nov 1899
14 Feb 2011
111 years, 83 days
UK
Carmela Mileo
F
27 Nov 1899
18 Feb 2011
111 years, 83 days
ITA
Qian Zhongming
M
5 Mar 1899
25 May 2010
111 years, 81 days
CHN
Zhong Hesheng
M
21 Dec 1899
6 Mar 2011
111 years, 75 days
CHN
49
Evelyn Ralston
F
17 Oct 1899
29 Dec 2010
111 years, 73 days
USA
Zhenya Broytman
F
21 Aug 1899
25 Oct 2010
111 years, 65 days
UKRGER
50
Elsie Ward
F
24 July 1899
21 Sept 2010
111 years, 59 days
UK
51
Bernardina van Dommelen
F
15 Mar 1899
16 Apr 2010
111 years, 32 days
BEL
52
Dora McRae
F
29 Aug 1899
26 Sept 2010
111 years, 28 days
USA
53
Catherine Carter
F
22 Nov 1899
18 Dec 2010
111 years, 26 days
USA
Tsuruki Yamasaki
F
5 May 1899
26 May 2010
111 years, 21 days
JPN
54
Riu Kato
F
5 Nov 1899
27 Oct 2010
110 years, 356 days
JPN
Tamie Irie
F
10 Oct 1899
28 Sept 2010
110 years, 353 days
JPN
Maria da Costa Almeida
F
29 Sept 1899
11 Sept 2010
110 years, 347 days
POR
55
Gudrun Onshuus
F
17 July 1899
9 June 2010
110 years, 327 days
NOR
Mildred Jasme
F
15 Feb 1899
7 Jan 2010
110 years, 326 days
USA
56
Frieda Schmidt
F
15 Dec 1899
6 Nov 2010
110 years, 326 days
GER
Qian Xingrong
F
1 Jan 1899
16 Nov 2009
110 years, 319 days
CHN
57
Teresa Brachetta
F
11 Aug 1899
24 June 2010
110 years, 317 days
ITA
Tsuko Kato
F
23 Sept 1899
3 Aug 2010
110 years, 314 days
JPN
58
Hilda Lacroix
F
27 Jan 1899
4 Dec 2009
110 years, 311 days
USA
59
Agnes Wetzel
F
18 Oct 1899
21 Aug 2010
110 years, 307 days
USA
Katarina Marinic
F
30 Oct 1899
2 Sept 2010
110 years, 307 days
SVN
61
Rosalind Hill
F
30 Mar 1899
18 Jan 2010
110 years, 294 days
KNAUSA
62
Jeanne Gagnard
F
29 Oct 1899
14 Aug 2010
110 years, 289 days
FRA
Ei Nakagaki
F
10 Dec 1899
13 Sept 2010
110 years, 277 days
JPN
63
Marie Lemoigne
F
18 May 1899
31 Jan 2010
110 years, 258 days
FRA
Edna Smith
F
30 Aug 1899
15 May 2010
110 years, 258 days
USA
65
Hilliard Hudson
M
23 Feb 1899
6 Nov 2009
110 years, 256 days
USA
66
Toki Takagi
F
1 Feb 1899
12 Oct 2009
110 years, 253 days
JPN
67
Gabrielle Demets
F
26 Aug 1899
1 May 2010
110 years, 248 days
BEL
Elizabeth Walker
F
31 Aug 1899
4 May 2010
110 years, 246 days
USA
68
Marie Audy
F
28 Mar 1899
24 Nov 2009
110 years, 241 days
FRA
Helen Bowerman
F
11 June 1899
5 Feb 2010
110 years, 239 days
USA
69
Toku Yamaguchi
F
24 May 1899
17 Jan 2010
110 years, 238 days
JPN
Zhang Chen
M
24 Dec 1899
28 July 2010
110 years, 216 days
CHN
70
Sylvia Utz
F
9 Mar 1899
5 Oct 2009
110 years, 210 days
USA
71
Mitsuno Suzuki
F
23 Aug 1899
19 Mar 2010
110 years, 208 days
JPN
72
Maria Pierson-Ledent
F
20 June 1899
6 Jan 2010
110 years, 200 days
BEL
Michael DeSantis
M
26 May 1899
3 Dec 2009
110 years, 191 days
USA
Adelheid Wehrle-Rieger
F
19 Nov 1899
28 May 2010
110 years, 190 days
SUI
73
Doris Nash
F
19 Jan 1899
20 July 2009
110 years, 182 days
UK
74
Helen Stump
F
25 Aug 1899
20 Feb 2010
110 years, 179 days
USA
75
Helene Cazes
F
29 Sept 1899
25 Mar 2010
110 years, 177 days
FRA
76
Antonietta Rocca
F
7 Oct 1899
29 Mar 2010
110 years, 173 days
ITA
Ingeborg Mestad
F
15 Dec 1899
5 June 2010
110 years, 172 days
NOR
77
Bernice Bach
F
17 Dec 1899
7 June 2010
110 years, 172 days
USA
78
Mona Agnew
F
29 Dec 1899
17 June 2010
110 years, 170 days
UK
79
Grazia Carbonaro
F
5 Apr 1899
20 Sept 2009
110 years, 168 days
ITA
80
Dorothy Montgomery
F
25 July 1899
31 Dec 2009
110 years, 159 days
USA
Anna Huber
F
5 Apr 1899
1 Sept 2009
110 years, 149 days
SUI
Midori Hisanaga
F
18 Dec 1899
12 May 2010
110 years, 145 days
JPN
81
Edna McClure
F
28 Aug 1899
11 Jan 2010
110 years, 136 days
UK
82
Sarah Wilkins
F
27 Mar 1899
8 Aug 2009
110 years, 134 days
USA
Tomo Sato
F
5 Mar 1899
14 July 2009
110 years, 131 days
JPN
Liberalino Leite
M
6 Feb 1899
15 June 2009
110 years, 129 days
BRA
83
Nell Meadows
F
17 Feb 1899
30 May 2009
110 years, 102 days
USA
Yu Erjie
F
31 Aug 1899
7 Dec 2009
110 years, 98 days
CHN
84
Clarice Johnson
F
5 May 1899
9 Aug 2009
110 years, 96 days
USA
85
Elspeth Wood
F
18 Feb 1899
22 May 2009
110 years, 93 days
UK
Margaret Cousins
F
27 Feb 1899
31 May 2009
110 years, 93 days
CAN
Maka Yoshihama
F
14 Oct 1899
12 Jan 2010
110 years, 90 days
JPN
Yoshi Furuya
F
28 June 1899
24 Sept 2009
110 years, 88 days
JPN
87
John Campbell Ross
M
11 Mar 1899
3 June 2009
110 years, 84 days
AUS
Madeleine Savoie
F
1 Nov 1899
24 Jan 2010
110 years, 84 days
CAN
89
Suga Machida
F
28 Mar 1899
17 June 2009
110 years, 81 days
JPN
90
Josephine-Jeanne Faure-Geors
F
30 Jan 1899
1 Apr 2009
110 years, 61 days
FRA
91
Anna Mae Pendley
F
18 Feb 1899
19 Apr 2009
110 years, 60 days
USA
Maude Buckley
F
8 Feb 1899
8 Apr 2009
110 years, 59 days
USA
Tokio Watanabe [2]
M
12 Dec 1899
6 Feb 2010
110 years, 56 days
JPN
Clara Schonholzer
F
8 Dec 1899
29 Jan 2010
110 years, 52 days
SUIGER
92
Tomasa Mendez-Rico
F
2 June 1899
21 July 2009
110 years, 49 days
ESP
Kiyotoshi Inoue [3]
M
10 Dec 1899
17 Jan 2010
110 years, 38 days
JPN
Yaeko Shiota
F
30 June 1899
30 July 2009
110 years, 30 days
JPN
93
Eleanor Grego
F
25 Jan 1899
17 Feb 2009
110 years, 23 days
USA
Kame Omine
F
5 Aug 1899
25 Aug 2009
110 years, 20 days
JPN
Gail Stites
F
6 Dec 1899
26 Dec 2009
110 years, 20 days
USA
94
Mary Macdonald
F
29 Dec 1899
17 Jan 2010
110 years, 19 days
UK
95
Shigeno Nakamura
F
21 Jan 1899
3 Feb 2009
110 years, 13 days
JPN
Lillie Lindberg
F
24 Nov 1899
7 Dec 2009
110 years, 13 days
USA
Pasqualina Silvestri
F
24 Dec 1899
5 Jan 2010
110 years, 12 days
ITA
Rosa Brown
F
15 Mar 1899
16 Mar 2009
110 years, 1 day
USA
96
Rosemary Quinn
F
17 Jan 1899
17 Jan 2009
110 years, 0 days
USA
Incomplete Claims
      Validated       Pending       Unvalidated
| Name | Sex | Birth | Death | Age | Country |
| --- | --- | --- | --- | --- | --- |
| Ichi Ishida | F | 15 Jan 1899 | c.11 Dec 2011 | 112 years, c.330 days | JPN |
| Toshi Higano | F | 19 June 1899 | 18/30 Sept 2011 | 112 years, 91-103 days | JPN |
| Suzu Kobayashi | F | 11 Dec 1899 | Jan 2012 | 112 years, 21-51 days | JPN |
| Hisashi Hayakawa | F | 15 Feb 1899 | Sept 2010 | 111 years, 198-227 days | JPN |
| Matsui Kobayashi | F | 1 Feb 1899 | June 2010 | 111 years, 120-149 days | JPN |
| Chiyo Yamaguchi | F | 5 Sept 1899 | 14/30 Sept 2010 | 111 years, 9-25 days | JPN |
| Moyo Hasegawa | F | 4 Dec 1899 | Sept 2010 | 110 years, 271-300 days | JPN |
| Yamazaki Nagasaku | M | 30 Mar 1899 | Nov 2009 | 110 years, 216-245 days | JPN |
| Makoto Okamoto | F | 17 Dec 1899 | June 2010 | 110 years, 166-195 days | JPN |
| Maka Yoshihama | F | 14 Oct 1899 | Jan 2010 | 110 years, 79-109 days | JPN |
| Kami Miyazato | F | 1 May 1899 | July 2009 | 110 years, 61-91 days | JPN |
| Yuki Numa | M | 7 Apr 1899 | May 2009 | 110 years, 24-54 days | JPN |
| Masako Adachi | F | 10 Mar 1899 | Apr 2009 | 110 years, 22-51 days | JPN |
| Anonymous (Tokyo) | F | Apr/Sept 1899 | Oct 2009 | 110 years, 1-213 days | JPN |
| Anonymous (Kanagawa) | F | Oct/Dec 1899 | Jan 2010 | 110 years, 1-122 days | JPN |
| Usa Hirata | F | 1898/1899 | c.28 Aug 2009 | 110 years, 0 days+ | JPN |
Graph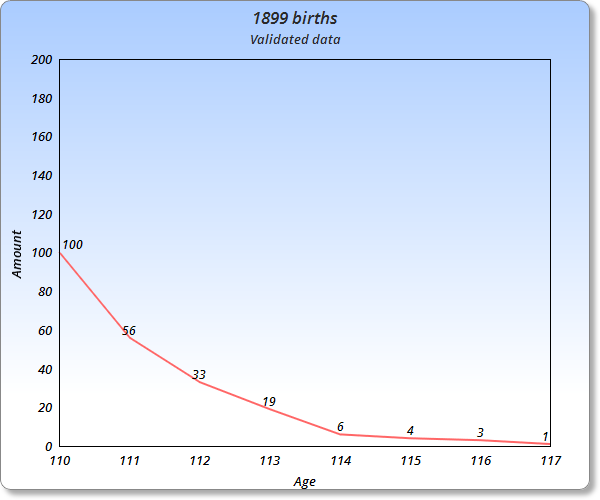 References