This is a list of supercentenarians born in 1901. As of 16 January 2022, 103 of them have been validated by the GRG, of whom 5 are in limbo. 22 people are currently pending as of March 2015, which means that there is sufficient evidence to support their claim, but the validation process has not yet been completed.
There are 27 additional claimants on the list who are either unvalidated, or have been independently researched, but whose claimed ages have not yet been reviewed and processed by the GRG. This category is referred to as "unvalidated".
Cohort extinction took place on 22 July 2018 when Chiyo Miyako of Japan died aged 117 years, 81 days.
List
      Validated       Pending       Unvalidated
Rank
Name
Sex
Birth
Death
Age
Country
1
Chiyo Miyako [1]
F
2 May 1901
22 July 2018
117 years, 81 days
JPN
2
Ana Vela-Rubio
F
29 Oct 1901
15 Dec 2017
116 years, 47 days
ESP
3
Kiyoko Ishiguro
F
4 Mar 1901
5 Dec 2015
114 years, 276 days
JPN
4
Eudoxie Baboul
F
1 Oct 1901
1 July 2016
114 years, 274 days
GUF,FRA
5
Dominga Velasco
F
12 May 1901
11 Oct 2015
114 years, 152 days
MEXUSA
6
Toshie Yorimitsu
F
30 Sept 1901
28 Feb 2016
114 years, 151 days
JPN
Marie Liguinen
F
26 Mar 1901
2 Apr 2015
114 years, 7 days
FRA
7
Emma Otis
F
22 Oct 1901
25 Oct 2015
114 years, 3 days
USA
8
Olympe Amaury
F
19 June 1901
12 May 2015
113 years, 327 days
FRA
9
Ruth Newman
F
23 Sept 1901
29 July 2015
113 years, 309 days
USA
10
Opal Thompson
F
13 Jan 1901
20 Oct 2014
113 years, 280 days
USA
11
Koito Furukawa
F
8 May 1901
11 Oct 2014
113 years, 156 days
JPN
12
Edna Bowman
F
3 June 1901
19 Apr 2014
112 years, 320 days
USA
Carmen Atencio [2]
F
25 July 1901
10 June 2014
112 years, 320 days
COL
13
Hanae Kimura
F
8 Aug 1901
16 June 2014
112 years, 312 days
JPN
14
Flora Thibodeau
F
20 Mar 1901
22 Jan 2014
112 years, 308 days
CAN
15
Maria Concha Perez-Cidad
F
9 Dec 1901
30 Sept 2014
112 years, 295 days
ESP
16
Marietta Capizzi
F
30 Jan 1901
10 Nov 2013
112 years, 284 days
ITA USA
17
Rosa Bandini
F
11 Sept 1901
12 June 2014
112 years, 274 days
ITA
18
Adea Pellerin-Cormier
F
11 Sept 1901
24 May 2014
112 years, 255 days
CAN
Mollie Wood
F
26 Apr 1901
17 Dec 2013
112 years, 235 days
USA
19
Hana Shindo
F
29 Oct 1901
20 June 2014
112 years, 234 days
JPN
Leola Washington
F
2 Mar 1901
13 Oct 2013
112 years, 225 days
USA
20
Jane Gray
F
1 Dec 1901
7 June 2014
112 years, 188 days
UK AUS
21
Francisca Garcia-Torres
F
13 Sept 1901
25 Feb 2014
112 years, 165 days
ESP
Annie Harris
F
17 Oct 1901
18 Mar 2014
112 years, 152 days
USA
22
Esther Ecklund
F
28 Oct 1901
12 Mar 2014
112 years, 135 days
SWEUSA
Gertrud Henze
F
8 Dec 1901
22 Apr 2014
112 years, 135 days
GER
24
Suzanne Burrier
F
14 Mar 1901
14 July 2013
112 years, 122 days
FRA
25
Natsuko Fujiwara
F
29 Sept 1901
23 Jan 2014
112 years, 116 days
JPN
26
Salustiano Sanchez
M
8 June 1901
13 Sept 2013
112 years, 97 days
ESPUSA
27
Mable Ragan
F
1 Feb 1901
30 Apr 2013
112 years, 88 days
USA
28
Kathleen McManners
F
6 July 1901
20 Sept 2013
112 years, 76 days
UK
29
Sou Osada
F
2 Jan 1901
9 Feb 2013
112 years, 38 days
JPN
30
Yoshi Kitamura
F
1 June 1901
29 May 2013
111 years, 362 days
JPN
31
Madeleine Mieze
F
28 Apr 1901
14 Apr 2013
111 years, 351 days
FRA
Masayo Okamoto
F
21 Sept 1901
7 Sept 2013
111 years, 351 days
JPN
33
Ellaline Redmond
F
20 Mar 1901
27 Feb 2013
111 years, 344 days
UK
34
James McCoubrey
M
13 Sept 1901
5 July 2013
111 years, 295 days
CANUSA
Eddye Williams
F
4 Jan 1901
21 Sept 2012
111 years, 261 days
USA
Mayetta Miller
F
15 Apr 1901
31 Dec 2012
111 years, 260 days
USA
35
Irene Pearce
F
5 Jan 1901
6 Sept 2012
111 years, 245 days
UK
36
Masayo Ogawara
F
2 Aug 1901
2 Apr 2013
111 years, 243 days
JPN
37
Marion Sawyer
F
5 July 1901
26 Feb 2013
111 years, 236 days
UK USA
38
Ruby Clawson
F
15 July 1901
11 Feb 2013
111 years, 211 days
USA
39
Olive Deschamps
F
22 Feb 1901
18 Sept 2012
111 years, 209 days
FRA
Gloriam Bellerive-Hebert [3]
F
28 June 1901
14 Jan 2013
111 years, 200 days
CAN
Hallie Mae Barnes
F
10 July 1901
26 Jan 2013
111 years, 200 days
USA
40
Rosa Frau
F
12 Aug 1901
14 Feb 2013
111 years, 186 days
ITA
Amanda McClenahan
F
6 Aug 1901
7 Feb 2013
111 years, 185 days
USA
Melva Radcliffe
F
3 Mar 1901
31 Aug 2012
111 years, 181 days
USA
41
Elisabeth Schneider
F
19 Aug 1901
9 Feb 2013
111 years, 174 days
GER
42
Ernesta Pizzocri
F
20 Aug 1901
6 Feb 2013
111 years, 170 days
ITA
Clara Sutton
F
14 Mar 1901
26 Aug 2012
111 years, 165 days
USA
43
Soto Yamamoto
F
10 Apr 1901
17 Sept 2012
111 years, 160 days
JPN
44
Viola Knack
F
18 Aug 1901
17 Jan 2013
111 years, 152 days
USA
45
Beulah Christie
F
25 Aug 1901
20 Jan 2013
111 years, 148 days
USA
Katherine Wowchuk
F
18 Aug 1901
8 Jan 2013
111 years, 143 days
UKRCAN
46
Shelby Harris
M
31 Mar 1901
25 July 2012
111 years, 116 days
USA
47
Odette Ambuhler
F
17 Sept 1901
31 Dec 2012
111 years, 105 days
FRA
48
Eva McConnell
F
5 May 1901
15 Aug 2012
111 years, 102 days
AUS
49
Maud Ellis
F
28 Sept 1901
14 Dec 2012
111 years, 77 days
UK
50
Makaru Nakanishi
M
15 Dec 1901
28 Feb 2013
111 years, 75 days
JPN
Helene Pratte-Blake
F
23 June 1901
4 Sept 2012
111 years, 73 days
CANUSA
Yasu Kushima [4]
F
10 May 1901
2 July 2012
111 years, 53 days
JPN
51
Francisco Fernandez
M
24 July 1901
7 Sept 2012
111 years, 45 days
ESP
Madeleine Chiron [5]
F
13 Sept 1901
26 Oct 2012
111 years, 43 days
FRA
52
Suzanne Hallet
F
17 Sept 1901
23 Oct 2012
111 years, 36 days
FRA
53
Germaine Lafond
F
27 July 1901
20 Aug 2012
111 years, 24 days
FRA
Ivory Ross-Lambert
F
16 Sept 1901
10 Oct 2012
111 years, 24 days
USA
54
Giovanni Ligato
M
18 Feb 1901
2 Mar 2012
111 years, 13 days
ITA
55
Emilienne Nacry
F
10 Mar 1901
10 Mar 2012
111 years, 0 days
FRA
56
Florence Green
F
19 Feb 1901
4 Feb 2012
110 years, 350 days
UK
Sietje Cornelia Hof
F
7 Jan 1901
23 Dec 2011
110 years, 350 days
NEDUSA
57
Tome Sagara
F
10 Aug 1901
10 July 2012
110 years, 335 days
JPN
58
Yoshio Nakagawa
M
19 Dec 1901
16 Nov 2012
110 years, 333 days
JPN
Catherine Dion
F
26 July 1901
21 June 2012
110 years, 331 days
CANUSA
59
Concetta la Rocca-Fera
F
4 June 1901
29 Apr 2012
110 years, 330 days
ITA
Fuji Miyawaki [6]
F
10 Apr 1901
22 Feb 2012
110 years, 318 days
JPN
60
Cacilia Buchinger
F
27 Sept 1901
6 Aug 2012
110 years, 314 days
AUT
Tsuya Yamaguchi [7]
F
22 Dec 1901
31 Oct 2012
110 years, 314 days
JPN
62
Mary Tankursley
F
21 Feb 1901
28 Dec 2011
110 years, 310 days
USA
Dolores Lauenroth
F
13 Jun 1901
6 Apr 2012
110 years, 298 days
USA
Kikutaro Maruhata [8]
M
20 Dec 1901
10 Oct 2012
110 years, 295 days
JPN
63
Jeanne Rannou
F
14 Sept 1901
2 July 2012
110 years, 292 days
FRA
64
Trudie Martin
F
19 Oct 1901
27 July 2012
110 years, 282 days
USA
Maria Felicia Bento
F
13 Apr 1901
29 Dec 2011
110 years, 265 days
POR
65
Kou Takayanagi
F
24 July 1901
8 Apr 2012
110 years, 259 days
JPN
66
Michino Takenaka
F
22 June 1901
4 Mar 2012
110 years, 256 days
JPN
Yae Yabuki
F
25 June 1901
7 Mar 2012
110 years, 256 days
JPN
Zoraida Ormaeche Rojas
F
23 Feb 1901
2 Nov 2011
110 years, 252 days
PER
68
Elizabeth Gauthier
F
5 June 1901
10 Feb 2012
110 years, 250 days
USA
69
Mary Spinner
F
20 Feb 1901
21 Oct 2011
110 years, 243 days
USA
Alma Mack
F
6 Dec 1901
5 Aug 2012
110 years, 243 days
USA
70
Janet Roberts
F
13 Aug 1901
6 Apr 2012
110 years, 237 days
UK
71
Alta Nelson
F
24 July 1901
12 Mar 2012
110 years, 232 days
USA
Marie-Noemie Malric
F
22 Dec 1901
6 Aug 2012
110 years, 231 days
FRALBN
72
Shige Taminato
F
15 Nov 1901
27 June 2012
110 years, 225 days
JPN
Gladys Lannigan
F
20 May 1901
23 Dec 2011
110 years, 217 days
UK
73
Ethel Wood
F
16 Jan 1901
19 Aug 2011
110 years, 215 days
GGY, UK UK
74
Maria Giovanna Giudice
F
28 Sept 1901
25 Apr 2012
110 years, 210 days
ITA
Emma Kennedy
F
8 Apr 1901
4 Nov 2011
110 years, 210 days
CAN
75
Karolina Grober
F
27 Apr 1901
21 Nov 2011
110 years, 208 days
GER
76
Helene Nilsen
F
7 Apr 1901
31 Oct 2011
110 years, 207 days
NOR
77
Giuseppe Mirabella
M
6 Sept 1901
30 Mar 2012
110 years, 206 days
ITA
78
Kamado Uehara
F
15 Sept 1901
27 Mar 2012
110 years, 194 days
JPN
79
Vitalia Scodina
F
14 Feb 1901
22 Aug 2011
110 years, 189 days
ITA
Maria Osswald
F
25 Sept 1901
29 Mar 2012
110 years, 186 days
GER
80
Yone Tsukiyama
F
1 Nov 1901
24 Apr 2012
110 years, 175 days
JPN
81
Rosina Carli
F
23 Apr 1901
8 Oct 2011
110 years, 168 days
ITA FRA
82
Kathleen Grimwood
F
19 Aug 1901
25 Jan 2012
110 years, 159 days
UK
Johanna Sell
F
28 Nov 1901
1 May 2012
110 years, 155 days
USA
Chiyo Morita
F
29 Mar 1901
29 Aug 2011
110 years, 153 days
JPN
Ruth Coleman
F
28 Nov 1901
28 Apr 2012
110 years, 152 days
USA
83
Shinobu Kamimura
F
6 Feb 1901
7 July 2011
110 years, 151 days
JPN
Mary Rothstein
F
6 Mar 1901
2 Aug 2011
110 years, 149 days
RUSAUS
Goyo Hirose [9]
F
8 Nov 1901
4 Apr 2012
110 years, 148 days
JPN
84
Elsie Rich
F
6 Aug 1901
29 Dec 2011
110 years, 145 days
AUTUSA
85
Kiku Okano
F
7 Nov 1901
16 Mar 2012
110 years, 130 days
JPN
86
Line Marmajou
F
20 Dec 1901
25 Apr 2012
110 years, 127 days
FRA
Adelfa Hernandez Lopez
F
21 Oct 1901
18 Feb 2012
110 years, 120 days
COL
Louise Michaels
F
20 Nov 1901
16 Mar 2012
110 years, 117 days
USA
87
Maria de Jaeger
F
15 Jan 1901
30 Apr 2011
110 years, 105 days
BEL
88
Jeannie Pattison
F
31 May 1901
9 Sept 2011
110 years, 101 days
UK
89
Tsuru Kamori
F
30 Jan 1901
8 May 2011
110 years, 98 days
JPN
Henrietta Taul
F
14 July 1901
17 Oct 2011
110 years, 95 days
USA
90
Takeno Sakata
F
28 Dec 1901
24 Mar 2012
110 years, 87 days
JPN
Tsuya Takada [10]
F
3 Mar 1901
28 May 2011
110 years, 86 days
JPN
91
Blanche Coward
F
17 Dec 1901
28 Feb 2012
110 years, 73 days
UK AUS
92
Giuseppina Danesin
F
24 June 1901
30 Aug 2011
110 years, 67 days
ITA
Inamae Robey
F
5 Nov 1901
9 Jan 2012
110 years, 65 days
USA
Tomasa Cusine Mora
F
21 Dec 1901
24 Feb 2012
110 years, 65 days
ESP
93
Claude Choules
M
3 Mar 1901
5 May 2011
110 years, 63 days
UK AUS
94
Marie Chatelier
F
23 Mar 1901
9 May 2011
110 years, 47 days
FRA
Ruth Galmon
F
30 Mar 1901
9 May 2011
110 years, 40 days
USA
Agar Lupelli
F
20 Oct 1901
27 Nov 2011
110 years, 38 days
ITA
95
Salvatorica Pitzolu
F
10 Dec 1901
16 Jan 2012
110 years, 37 days
ITA
96
Frank Buckles
M
1 Feb 1901
27 Feb 2011
110 years, 26 days
USA
97
Elda Cattoni
F
20 July 1901
9 Aug 2011
110 years, 20 days
ITA
Rose Haddad
F
15 Apr 1901
29 Apr 2011
110 years, 14 days
SYRUSA
Mattie Caldwell
F
6 Mar 1901
18 Mar 2011
110 years, 12 days
USA
Kana Taira
F
1 June 1901
13 June 2011
110 years, 12 days
JPN
98
Maria Marcote-Boullosa
F
28 Sept 1901
4 Oct 2011
110 years, 6 days
ESP
Alma Petersen
F
5 Oct 1901
11 Oct 2011
110 years, 6 days
USA
Incomplete Claims
      Validated       Unvalidated
| Name | Sex | Birth | Death | Age | Country |
| --- | --- | --- | --- | --- | --- |
| Anonymous (Hiroshima) | F | 1 Mar 1901 | July 2011 | 110 years, 122-152 days | JPN |
| Michie Honda | F | 28 Mar 1901 | Nov 2013 | 112 years, 218-247 days | JPN |
| Chiyo Fukagawa | F | 5 June 1901 | Feb 2015 | 113 years, 241-268 days | JPN |
| Sugano Suzuki | F | 28 July 1901 | June 2012 | 110 years, 309-338 days | JPN |
| Sada Shinomori | F | 25 Aug 1901 | July 2012 | 110 years, 311-341 days | JPN |
| Kinu Mori | F | 1 Sept 1901 | Dec 2012 | 111 years, 91-121 days | JPN |
| Yusato Ogawa | F | Jan/15 Sept 1901 | Oct 2011 | 110 years, 15-303 days | JPN |
| Matsuyo Kageyama | F | 10 Oct 1901 | Jan 2016 | 114 years, 83-113 days | JPN |
| Tou Tajiri | F | 23 Oct 1901 | Feb 2014 | 112 years, 101-128 days | JPN |
| Kameno Nosaka | F | 4 Nov 1901 | Apr 2013 | 111 years, 148-177 days | JPN |
| Guillermina Acosta Bilbao | F | 27 Nov 1901 | fl.27 Nov 2015 | 114 years, 0+ days | PAN |
| Anonymous (Chiba) | F | 15 Sept/Nov 1901 | Nov 2012 | 111 years, 0-76 days | JPN |
| Teruko Okada | F | Sept/Dec 1901 | Apr 2012 | 110 years, 92-213 days | JPN |
| Louise Senna [11] | F | 19 Aug 1901 | 1/28 Oct 2014 | 113 years, 43-70 days | USA |
| Urbana Santiago [12] | F | 2 Feb 1901? | ? | 110 years, 0+ days | PRI,USA |
Graph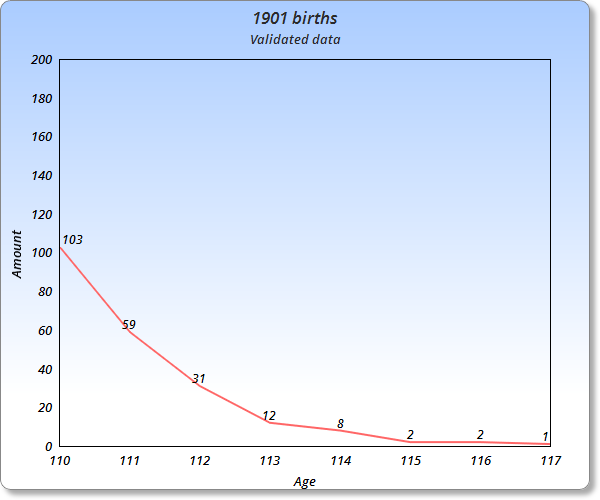 References