This is a list of persons claiming to be supercentenarians born in the year 1905. As of 24 January 2022, 37 people (five of whom are in limbo) have been officially validated according to the GRG, IDL, or GWR. 9 people are currently pending, which means that there is sufficient evidence to support their claim, but the validation process has not yet been completed.
There are 138 additional cases on this list for which research has been made, but whose claimed age has not yet been reviewed and processed by GRG. This category is referred to as "unvalidated".
Cohort extinction took place on 23 January 2022 when the last living validated person born in 1905, Antonia da Santa Cruz of Brazil, died aged 116 years, 224 days.
List
      Validated (Deceased)       Validated (Living)       Pending       Unvalidated
| Rank | Name | Sex | Birth | Death | Age | Country |
| --- | --- | --- | --- | --- | --- | --- |
| 1 | Antonia da Santa Cruz [1] | F | 13 June 1905 | 23 Jan 2022 | 116 years, 224 days | BRA |
| 2 | Jeanne Bot [2] | F | 14 Jan 1905 | 22 May 2021 | 116 years, 128 days | FRA |
| 3 | Shigeyo Nakachi [3] | F | 1 Feb 1905 | 11 Jan 2021 | 115 years, 345 days | JPN |
| 4 | Hester Ford [4] | F | 15 Aug 1905 | 17 Apr 2021 | 115 years, 245 days | USA |
| 5 | Iris Westman [5] | F | 28 Aug 1905 | 3 Jan 2021 | 115 years, 128 days | USA |
| 6 | Mina Kitagawa [6] | F | 3 Nov 1905 | 19 Dec 2020 | 115 years, 46 days | JPN |
| 7 | Faustina Sarmiento Pupo [7] | F | 15 Feb 1905 | 16 Sept 2019 | 114 years, 213 days | CUB |
| 8 | Kame Ganeko [8] | F | 10 Apr 1905 | 18 Oct 2019 | 114 years, 191 days | JPN |
| 9 | Geertje Kuijntjes [9] | F | 19 July 1905 | 24 Dec 2019 | 114 years, 158 days | NED |
| 10 | Alelia Murphy [10] | F | 6 July 1905 | 23 Nov 2019 | 114 years, 140 days | USA |
| 11 | Osugi Sogo | F | 13 Aug 1905 | 4 Nov 2019 | 114 years, 83 days | JPN |
| 12 | Ellen (Dolly) Gibb [11] | F | 26 Apr 1905 | 5 June 2019 | 114 years, 40 days | CAN |
| 13 | Kura Bingo [12] | F | 20 Oct 1905 | 31 Oct 2019 | 114 years, 11 days | JPN |
| 14 | Kimi Asanuma [13] | F | 3 Nov 1905 | 22 Aug 2019 | 113 years, 292 days | JPN |
| 15 | Diega Cammalleri [14] | F | 23 Oct 1905 | 15 June 2019 | 113 years, 235 days | ITA |
| 16 | Maggie Kidd [15] | F | 8 Dec 1905 | 8 July 2019 | 113 years, 212 days | USA |
| 17 | Tsukimi Kishi [16] | F | 31 Aug 1905 | 19 Mar 2019 | 113 years, 200 days | JPN |
| 18 | Masazo Nonaka [17] | M | 25 July 1905 | 20 Jan 2019 | 113 years, 179 days | JPN |
| 19 | Mariannina Genovese [18] | F | 15 Oct 1905 | 1 Jan 2019 | 113 years, 78 days | ITA |
| 20 | Mathilde Lartigue [19] | F | 24 Mar 1905 | 24 Mar 2018 | 113 years, 0 days | FRA |
| 21 | Lucille Treccase [20] | F | 18 Oct 1905 | 31 Aug 2018 | 112 years, 317 days | USA |
| | Maria Mercedes Arrocha Graell[21] | F | 24 Sept 1905 | 3 July 2018 | 112 years, 282 days | PAN |
| | Hazel Gates [22] | F | 6 Apr 1905 | 23 Dec 2017 | 112 years, 261 days | USA |
| 22 | Mine Suzuki [23] | F | 26 Mar 1905 | 11 Dec 2017 | 112 years, 260 days | JPN |
| 23 | Alice Ducat [24] | F | 8 May 1905 | 22 Dec 2017 | 112 years, 228 days | UK |
| | Maria Veiga Amado [25] | F | 9 Oct 1905 | 6 May 2018 | 112 years, 209 days | CPV |
| 24 | Anna Maria Rosati [26] | F | 4 May 1905 | 27 Nov 2017 | 112 years, 207 days | ITA |
| 25 | Lena Dick [27] | F | 5 Aug 1905 | 27 Feb 2018 | 112 years, 206 days | USA |
| | Edelgard Huber von Gersdorff [28] | F | 7 Dec 1905 | 9 Apr 2018 | 112 years, 123 days | GER |
| 26 | Lizzie Wood [29] | F | 20 Feb 1905 | 3 June 2017 | 112 years, 103 days | USA |
| | Henriette Roques [30] | F | 8 Sept 1905 | 20 Dec 2017 | 112 years, 103 days | FRA |
| 27 | Leta Nolen [31] | F | 17 Feb 1905 | 28 Mar 2017 | 112 years, 39 days | USA |
| 28 | Alicia Corveleyn [32] | F | 8 Jan 1905 | 31 Jan 2017 | 112 years, 23 days | BEL |
| 29 | Elia Concari [33] | F | 14 July 1905 | 2 Aug 2017 | 112 years, 19 days | ITA |
| | Isabelle Boizeau [34] | F | 18 Nov 1905 | 25 Nov 2017 | 112 years, 7 days | FRA |
| 30 | Katie Bodenbender | F | 19 Apr 1905 | 16 Apr 2017 | 111 years, 362 days | GERUSA |
| | Madeleine Ragon [35] | F | 27 Mar 1905 | 8 Mar 2017 | 111 years, 346 days | FRA |
| | Yoshiko Araki | F | 31 Mar 1905 | 28 Feb 2017 | 111 years, 334 days | JPN |
| | Margherita Carossio-Monti [36] | F | 10 Aug 1905 | 30 June 2017 | 111 years, 324 days | ITA ARG |
| 31 | Tressa Bartholomew | F | 30 Mar 1905 | 5 Feb 2017 | 111 years, 312 days | USA |
| | Maria Zaccaria [37] | F | 24 Nov 1905 | 2 Oct 2017 | 111 years, 312 days | ITA FRA |
| | Valerio Piroddi | M | 13 Nov 1905 | 18 Sept 2017 | 111 years, 309 days | ITA |
| | Maggie Devane [38] | F | 17 Nov 1905 | 12 Sept 2017 | 111 years, 299 days | USA |
| | Marcelle Adda | F | 3 June 1905 | 22 Mar 2017 | 111 years, 292 days | FRA |
| | Molly Schmidt | F | 22 July 1905 | 8 May 2017 | 111 years, 290 days | CANUSA |
| | Antoinette Ploger [39] | F | 21 Nov 1905 | 30 Aug 2017 | 111 years, 282 days | USA |
| | Jadwiga Szubartowicz | F | 16 Oct 1905 | 20 July 2017 | 111 years, 277 days | POL |
| | Pauline Raissle [40] | F | 16 Dec 1905 | 29 Aug 2017 | 111 years, 256 days | GER |
| | Juliana Koo | F | 26 Sept 1905 | 24 May 2017 | 111 years, 240 days | CHNUSA |
| | Sahae Kawabata | F | 3 Sept 1905 | 30 Apr 2017 | 111 years, 239 days | JPN |
| | Armida Sholar | F | 9 Aug 1905 | 4 Apr 2017 | 111 years, 238 days | USA |
| | Ruth Blackman [41] | F | 24 Oct 1905 | 15 June 2017 | 111 years, 234 days | USA |
| | Toichi Sasaki | M | 4 Sept 1905 | 20 Apr 2017 | 111 years, 228 days | JPN |
| | Maria Zuccala | F | 15 Mar 1905 | 15 Oct 2016 | 111 years, 214 days | ITA |
| | Carmen Gomez Gonzalez | F | 23 Jan 1905 | 20 Aug 2016 | 111 years, 210 days | ESP |
| | Ellen Boenig | F | 21 Oct 1905 | 16 Apr 2017 | 111 years, 177 days | USA |
| | Chrystal Harper | F | 28 June 1905 | 11 Dec 2016 | 111 years, 166 days | USA |
| | Lela Schnorf | F | 29 Nov 1905 | 2 Apr 2017 | 111 years, 124 days | USA |
| | Ruby Clodfelter | F | 26 July 1905 | 19 Nov 2016 | 111 years, 116 days | USA |
| | Eugenie Raffy | F | 13 July 1905 | 30 Oct 2016 | 111 years, 109 days | FRA |
| | Gladys Terrill | F | 12 Sept 1905 | 23 Dec 2016 | 111 years, 102 days | USA |
| | Vera Pigott | F | 8 July 1905 | 13 Oct 2016 | 111 years, 97 days | UK |
| | Maria Frigerio | F | 10 Apr 1905 | 25 June 2016 | 111 years, 76 days | ITA |
| | Ethel Raney | F | 27 Feb 1905 | 12 May 2016 | 111 years, 75 days | USA |
| | Mary Whitehurst | F | 20 Oct 1905 | 2 Jan 2017 | 111 years, 74 days | UK AUS |
| 32 | Clara Anderson [42] | F | 2 July 1905 | 12 Sept 2016 | 111 years, 72 days | USA |
| | Frank Simes | M | 10 July 1905 | 18 Sept 2016 | 111 years, 70 days | TUR UK |
| | Louise-Anna Turcotte | F | 5 Sept 1905 | 12 Nov 2016 | 111 years, 68 days | CAN |
| | Maria Teresa Fossati | F | 9 Sept 1905 | 13 Nov 2016 | 111 years, 65 days | ITA |
| | Ruth Adler | F | 11 Jan 1905 | 12 Mar 2016 | 111 years, 61 days | USA |
| | Jeanne Aubert | F | 29 Nov 1905 | 23 Jan 2017 | 111 years, 55 days | FRA |
| | Marie-Claire Brissaud | F | 12 Mar 1905 | 3 May 2016 | 111 years, 52 days | FRA |
| | Lidia Riso | F | 23 Dec 1905 | 8 Feb 2017 | 111 years, 47 days | ITA |
| | Clarina Hudon | F | 4 Mar 1905 | 7 Apr 2016 | 111 years, 34 days | CANUSA |
| | Isabel Brito Guarin [43] | F | 15 May 1905 | 18 June 2016 | 111 years, 34 days | COL |
| | Suzana Correa Conceicao Silva | F | 23 Apr 1905 | 9 May 2016 | 111 years, 16 days | POR |
| | Georgia Everett [44] | F | 19 Nov 1905 | 5 Dec 2016 | 111 years, 16 days | USA |
| | Germaine Jacmel | F | 20 Apr 1905 | 5 May 2016 | 111 years, 15 days | GLP,FRA |
| | Martha Coleman | F | 5 June 1905 | 18 June 2016 | 111 years, 13 days | USA |
| | Caroline Thiesing | F | 10 July 1905 | 22 July 2016 | 111 years, 12 days | USA |
| | Lucille Hodges | F | 12 Apr 1905 | 23 Apr 2016 | 111 years, 11 days | USA |
| | Kinue Yoshida | F | 10 June 1905 | 17 June 2016 | 111 years, 7 days | JPN |
| | Gloria Castellanos de Alvarez [45] | F | 16 Sept 1905 | 21 Sept 2016 | 111 years, 5 days | DOM |
| | Antonia Amore | F | 17 Feb 1905 | 18 Feb 2016 | 111 years, 1 day | ITA USA |
| | Shigeno Shiomi [46] | F | 15 Apr 1905 | 7 Apr 2016 | 110 years, 358 days | JPN |
| | Rose Thayer | F | 1 Sept 1905 | 16 Aug 2016 | 110 years, 350 days | USA |
| | Mary Marsh | F | 8 Oct 1905 | 4 Sept 2016 | 110 years, 332 days | USA |
| | Felix Simoneaux | M | 24 May 1905 | 19 Apr 2016 | 110 years, 331 days | USA |
| | Juliette Jocher | F | 11 Mar 1905 | 3 Feb 2016 | 110 years, 329 days | FRA |
| | Hildegard Henke | F | 4 Nov 1905 | 27 Sep 2016 | 110 years, 328 days | GER |
| | Mumeno Ito | F | 7 Oct 1905 | 20 Aug 2016 | 110 years, 318 days | JPN |
| | Ida Tallin | F | 25 Sept 1905 | 5 Aug 2016 | 110 years, 315 days | POLUSA |
| | Marion Hunter | F | 27 Sept 1905 | 2 Aug 2016 | 110 years, 310 days | USA |
| | Grace Viola | F | 28 Dec 1905 | 30 Oct 2016 | 110 years, 307 days | USA |
| | Katherine Gomery | F | 24 Feb 1905 | 27 Dec 2015 | 110 years, 306 days | CANUSA |
| | Roberta Farris | F | 19 July 1905 | 12 May 2016 | 110 years, 298 days | USA |
| | Maria Vencelj Maggi | F | 23 Dec 1905 | 8 Oct 2016 | 110 years, 290 days | SVN ITA |
| | Kame Saito | F | 5 Jan 1905 | 12 Oct 2015 | 110 years, 280 days | JPN |
| | Mattie Cisrow | F | 30 May 1905 | 3 Mar 2016 | 110 years, 278 days | USA |
| | Lillian Ruebhausen | F | 2 July 1905 | 2 Apr 2016 | 110 years, 275 days | USA |
| | Simonne Lantran | F | 10 Feb 1905 | 7 Nov 2015 | 110 years, 270 days | FRA |
| | Fusako Hasegawa | F | 23 May 1905 | 14 Feb 2016 | 110 years, 267 days | JPN |
| | Ise Masuda | F | 2 Mar 1905 | 22 Nov 2015 | 110 years, 265 days | JPN |
| | Annie Stroud | F | 13 Oct 1905 | 3 July 2016 | 110 years, 264 days | UK |
| | Herta Oeser | F | 24 June 1905 | 13 Mar 2016 | 110 years, 263 days | GER |
| | Mercedes Bedoya de Blanquiceth | F | 7 Jan 1905 | 25 Sept 2015 | 110 years, 261 days | COL |
| | Teru Hatakeyama | F | 20 July 1905 | 3 Apr 2016 | 110 years, 258 days | JPN |
| | Mohamed Boina | M | 5 Jan 1905 | 19 Sept 2015 | 110 years, 257 days | MYT, FRA |
| | Maria Lamprecht | F | 8 July 1905 | 12 Mar 2016 | 110 years, 248 days | GER |
| | Leontine Rousselot | F | 23 July 1905 | 26 Mar 2016 | 110 years, 247 days | FRA |
| | Kikuno Yamamoto | F | 27 July 1905 | 24 Mar 2016 | 110 years, 241 days | JPN |
| | Lilly Baron | F | 26 May 1905 | 14 Jan 2016 | 110 years, 233 days | FRA |
| | Geralda Aloy | F | 27 Jan 1905 | 16 Sept 2015 | 110 years, 232 days | BRA |
| | Anna Holzl | F | 17 Nov 1905 | 1 July 2016 | 110 years, 227 days | USA |
| | Lucrecia Rios | F | 25 Sept 1905 | 8 May 2016 | 110 years, 226 days | SLVUSA |
| | Matilda Montague | F | 12 Feb 1905 | 15 Sept 2015 | 110 years, 215 days | UK |
| | Ella Marsh | F | 22 Dec 1905 | 24 July 2016 | 110 years, 215 days | USA |
| | Sue Whiddon | F | 14 Dec 1905 | 13 July 2016 | 110 years, 212 days | USA |
| | Francesca Settimanni | F | 8 July 1905 | 4 Feb 2016 | 110 years, 211 days | ITA |
| | Eva Philippet | F | 18 Oct 1905 | 6 May 2016 | 110 years, 201 days | BEL |
| | Gregoria Benito Rodriguez | F | 4 Jan 1905 | 19 July 2015 | 110 years, 196 days | ESP |
| | Angela Gironella Gratacos | F | 2 Aug 1905 | 30 Jan 2016 | 110 years, 181 days | ESP |
| | Tsuya Kameda | F | 24 Nov 1905 | 21 May 2016 | 110 years, 179 days | JPN |
| | Bessie Porter | F | 31 Jan 1905 | 25 July 2015 | 110 years, 177 days | USA |
| | Alfred Date | M | 8 Nov 1905 | 2 May 2016 | 110 years, 176 days | UK AUS |
| | Roger Gouzy | M | 23 July 1905 | 12 Jan 2016 | 110 years, 173 days | FRA |
| | Frank Levingston | M | 13 Nov 1905 | 3 May 2016 | 110 years, 172 days | USA |
| | Marcelle Colisson | F | 1 June 1905 | 18 Nov 2015 | 110 years, 170 days | FRA |
| | Ann Beach-Burow | F | 23 Oct 1905 | 9 Apr 2016 | 110 years, 169 days | USA |
| | Miyo Koganezaki | F | 1 Jan 1905 | 8 June 2015 | 110 years, 158 days | JPN |
| | Veronica Forstner | F | 3 May 1905 | 29 Sept 2015 | 110 years, 149 days | USA |
| | Minoe Kageyama | F | 5 Nov 1905 | 1 Apr 2016 | 110 years, 148 days | JPN |
| | Agapita Arranz | F | 24 Mar 1905 | 15 Aug 2015 | 110 years, 144 days | ESP |
| | Marguerite Nerny | F | 28 July 1905 | 17 Dec 2015 | 110 years, 142 days | SUICAN |
| | Signe Hoejer | F | 1 Nov 1905 | 18 Mar 2016 | 110 years, 138 days | DEN |
| | Maria Romero | F | 4 Jan 1905 | 16 May 2015 | 110 years, 132 days | MEXUSA |
| | Sarah Raymond | F | 14 Apr 1905 | 22 Aug 2015 | 110 years, 128 days | USA |
| | Dante Parlani | M | 23 Nov 1905 | 25 Mar 2016 | 110 years, 123 days | ITA |
| | Genevieve Marly | F | 5 May 1905 | 2 Sept 2015 | 110 years, 120 days | FRA |
| | James Richardson | M | 2 Jan 1905 | 29 Apr 2015 | 110 years, 117 days | USA |
| | Nellij de Vries-Lammerts | F | 5 May 1905 | 27 Aug 2015 | 110 years, 114 days | NED |
| | Mary Snelling | F | 17 Dec 1905 | 4 Apr 2016 | 110 years, 109 days | UK |
| | Delfina Begue San Martin | F | 20 Sept 1905 | 4 Feb 2016 | 110 years, 107 days | CHL |
| | Gwenllian Davies | F | 4 Oct 1905 | 17 Jan 2016 | 110 years, 105 days | UK |
| | Alida Suzanna Harst-Mathijssen | F | 31 Dec 1905 | 11 Apr 2016 | 110 years, 102 days | NED |
| | Beatrice Naud | F | 6 Apr 1905 | 10 July 2015 | 110 years, 95 days | CAN |
| | Florilda Desrochers | F | 6 Apr 1905 | 8 July 2015 | 110 years, 93 days | CAN |
| | Marcelle Gourdinet | F | 15 Nov 1905 | 13 Feb 2016 | 110 years, 90 days | FRA |
| | Alice Delbende | F | 18 May 1905 | 4 Aug 2015 | 110 years, 78 days | FRA |
| | Kiku Morita [47] | F | 20 Oct 1905 | 6 Jan 2016 | 110 years, 78 days | JPN |
| | Fanny Jean | F | 12 Feb 1905 | 26 Apr 2015 | 110 years, 73 days | ITA FRA |
| | Jenny Lindefjeld | F | 17 Apr 1905 | 28 June 2015 | 110 years, 72 days | NOR |
| | Edith Lale | F | 10 Mar 1905 | 20 May 2015 | 110 years, 71 days | USA |
| | Lillian Braun | F | 15 Aug 1905 | 20 Oct 2015 | 110 years, 66 days | USA |
| | Joaquima Arus i Bonet | F | 9 July 1905 | 11 Sept 2015 | 110 years, 64 days | ESP |
| | Yoshi Obuchi | F | 22 Oct 1905 | 16 Dec 2015 | 110 years, 55 days | JPN |
| | Salvatore Caruso | M | 2 Nov 1905 | 22 Dec 2015 | 110 years, 50 days | ITA |
| | Lucille Severine | F | 23 July 1905 | 10 Sept 2015 | 110 years, 49 days | USA |
| | Marie Behenska | F | 2 Apr 1905 | 20 May 2015 | 110 years, 48 days | CZE |
| | Martha Afrikaner | F | 27 Sept 1905 | 11 Nov 2015 | 110 years, 45 days | NAM |
| | Maria Pereira de Sousa | F | 8 Sept 1905 | 18 Oct 2015 | 110 years, 40 days | BRA |
| | Bernice Martin | F | 6 Dec 1905 | 14 Jan 2016 | 110 years, 39 days | USA |
| | Dorothy Ziegenfuss | F | 9 July 1905 | 16 Aug 2015 | 110 years, 38 days | USA |
| | Florence Krietenstein | F | 14 Nov 1905 | 22 Dec 2015 | 110 years, 38 days | USA |
| | Maria Medina Prieto | F | 10 Dec 1905 | 17 Jan 2016 | 110 years, 38 days | ESP |
| | Ekaterini Tselios | F | 21 Jan 1905 | 24 Feb 2015 | 110 years, 34 days | GREUSA |
| | Erva Lynch | F | 8 June 1905 | 12 July 2015 | 110 years, 34 days | USA |
| | Sylvia Msoka Chembe | F | 22 Oct 1905 | 25 Nov 2015 | 110 years, 34 days | ZAM |
| | Alice Fischer [48] | F | 23 Dec 1905 | 26 Jan 2016 | 110 years, 34 days | USA |
| | Kathleen Furness [49] | F | 15 Aug 1905 | 16 Sept 2015 | 110 years, 32 days | UK |
| | Mark Behrends | M | 16 May 1905 | 13 June 2015 | 110 years, 28 days | USA |
| | Jeromine Emmanuelli | F | 21 Nov 1905 | 10 Dec 2015 | 110 years, 19 days | FRA |
| | Deraldina Souza dos Santos | F | 5 Jan 1905 | 21 Jan 2015 | 110 years, 16 days | BRA |
| | Laura Gibson | F | 17 Jan 1905 | 28 Jan 2015 | 110 years, 11 days | USA |
| | Greet Hogenhout-van Kerkhof | F | 28 Aug 1905 | 8 Sept 2015 | 110 years, 11 days | NED |
| | Rivka Yezersky | F | 28 Dec 1905 | 8 Jan 2016 | 110 years, 11 days | BLRGER |
| | Margaret Perring | F | 1 Mar 1905 | 11 Mar 2015 | 110 years, 10 days | UK |
| | Margherita Orioli | F | 25 June 1905 | 3 July 2015 | 110 years, 8 days | ITA |
| | Amelia Robinson | F | 18 Aug 1905 | 26 Aug 2015 | 110 years, 8 days | USA |
| | Regina Rotthauwe | F | 31 Jan 1905 | 6 Feb 2015 | 110 years, 6 days | GER |
| | Elizabeth Culbertson | F | 2 Apr 1905 | 3 Apr 2015 | 110 years, 1 day | USA |
Incomplete Cases
| Name | Sex | Birth | Death | Age | Country |
| --- | --- | --- | --- | --- | --- |
| Koeji Nagata | F | 19 Jan 1905 | fl. 1 Mar 2015 | 110 years, 41+ days | JPN |
| Junko Wada | F | Jan 1905 | Jan 2016 | 111 years, 0-30 days | JPN |
| Toshiko Tsuda | F | 28 Jan 1905 | June 2016 | 111 years, 125-154 days | JPN |
| Anonymous (Kashiwa, Chiba) | F | 28 Jan 1905 | 2015 | 110 years, 0+ days | JPN |
| Stasys Grigas | M | 7 Feb 1905 | 2015/2016? | 110 years, 0 days+ | LTU |
| Chiyo Watanabe | F | 2 Jan/17 Feb 1905 | 28 Aug 2015 | 110 years, 192-238 days | JPN |
| Etsu Nishiura [50] | F | 19 Feb 1905 | ≈9 July 2017 | 112 years, 140± days | JPN |
| Haruno Yamashita [51] | F | 19 Feb 1905 | Sept 2019 | 114 years, 194+ days | JPN |
| Satoru Tomizawa | M | 10 Mar 1905 | Dec 2015 | 110 years, 266-296 days | JPN |
| Yoshie Honda | F | 19 Mar 1905 | Dec 2015 | 110 years, 257-287 days | JPN |
| Ana Maria Hermida de Ara [52] | F | Mar 1905 | 23 Nov 2016 | 111 years, c.262 days | ESPARG |
| Yasu Agu | F | 1 Apr 1905 | 1 Oct/31 Dec 2015 | 110 years, 183-274 days | JPN |
| Sudo Shido | F | Apr 1905 | Dec 2015 | 110 years, 215-274 days | JPN |
| Zonia Way | F | 9 May 1905 | fl. 8 Mar 2016 | 110 years, 303+ days | USA |
| Maria Hoffner | F | 20 June 1905 | 2015 | 110 years, 0 days+ | HUN |
| Zhang Mingzhu [53] | F | 22 June 1905 | fl.10 Oct 2017 | 112 years, 110+ days | CHN |
| Chiyono Hiramatsu | F | 24 June 1905 | Oct 2015/Mar 2016 | 110 years, 129-281 days | JPN |
| Katsu Iba | F | June 1905 | 6 July 2016 | 111 years, 6-35 days | JPN |
| Anonymous (Kyoto) [54] | F | 16 July 1905 |  Sep 2018 | 113 years, 47+ days | JPN |
| Cornelio Fajardo [55] | M | c.21 July 1905 | fl.21 Jul 2016 | 111 years, 0+ days | PHL |
| Ishie Sato | F | July 1905 | 10 May 2016 | 110 years, 284-314 days | JPN |
| Anonymous (Suginami, Tokyo) | F | July 1905 | Oct 2016 | 111 years, 62-122 days | JPN |
| Anonymous | F | 6 Aug 1905 | ? | ? | FRA |
| Masuo Asayo | F | 30 Aug 1905 | Sept/Oct 2016 | 111 years, 2-62 days | JPN |
| Atsuno Nakayama | F | Aug 1905 | Feb 2016 | 110 years, 154-211 days | JPN |
| Kesano Inose | F | 10 Sept 1905 | fl. 10 Sep 2015 | 110 years, 0+ days | JPN |
| Yoshimi Ishikawa | F | Apr/June 1905 | June 2016 | 111 years, 0+ days | JPN |
| Anonymous (Chikushino, Fukuoka) | F | 1904/1905 | 2015/2016 | 110 years, 0+ days | JPN |
| Anonymous (Iizuka, Fukuoka) | F | 1904/1905 | 2015/2016 | 110 years, 0+ days | JPN |
| Anonymous (Yokohama, Kanagawa) | F | 1905 | Sept/Oct 2016 | 111 years, 0-304 days | JPN |
| Anonymous (Koto, Tokyo) | F | 1904/1905 |  fl. Sept 2016 | 111 years, 0+ days | JPN |
| Shizuno Nakajima | F | 1 Jan/15 Sep 1905 | 28 Oct 2015 | 110 years, 43-300 days | JPN |
| Anonymous (Ichikawa, Chiba) | F | 27 Mar/15 Sep 1905 | Mar 2017 | 111 years, 167-364 days | JPN |
| Carlos Valenzuela | M | 24 Sep 1905 | c.28 Mar 2016 | 110 years, c.187 days | PERUSA |
| Anonymous (Mito, Ibaraki) | F | Apr/Sept 1905 | Apr/May 2016 | 110 years, 184-365 days | JPN |
| Anonymous (Harbin, Heilongjiang) | F | 19 Jan/11 Oct 1905 | fl.12 Oct 2019 | 114 years, 1+ days | CHN |
| Misao Uemura [56] | F | 7 Nov 1905 | ≈25 Jun 2019 | 113 years, 230± days | JPN |
| Masue Sogawa | F | 3 Dec 1905 | 1 Mar/28 May 2016 | 110 years, 89-177 days | JPN |
| Yuki Takayama | F | 14 Dec 1905 | 14/31 Dec 2016 | 111 years, 0-17 days | JPN |
| Haru Matsuyama | F | Sept/Dec 1905 | 7 May 2016 | 110 years, 128-249 days | JPN |
| Hisa Ono [57] | F | 16 Sept/31 Dec 1905 | 4 Sept 2019 | 113 years, 217-353 days | JPN |
Questionable Claims
| Name | Sex | Birth | Death | Age | Country |
| --- | --- | --- | --- | --- | --- |
| Evdokia Treteykina | F | 9 Jan 1905? | 7 Feb 2019 | 114 years, 29 days? | BLRRUS |
| Gustav Gerneth [58] | M | 15 Oct 1905? | 21 Oct 2019 | 114 years, 6 days? | POLGER |
| Manoel Dionisio da Silva [59] | M | 15 Oct 1905? | 31 May 2019 | 113 years, 228 days? | BRA |
| Anna Dadykina [60] | F | 4 Mar 1905? | 11 July 2018 | 113 years, 129 days? | RUS |
| She Wenfu [61] | M | July 1905? | fl.12 Feb 2018 | 112 years, 196+ days | CHN |
| Agnes Fenton [62] | F | 1 Aug 1905? | 24 Aug 2017 | 112 years, 23 days? | USA |
| Muthiasse Valoi | F | 16 July 1905? | 28 Sep 2016 | 111 years, 74 days? | MOZ |
| Leonidio dos Santos | M | 21 Dec 1905? | 1 Mar 2017 | 111 years, 70 days? | BRA |
| Delfina Avila Maestre [63] | F | 28 Feb 1905? | 4 May 2016 | 111 years, 66 days? | COL |
| John William Douglas | M | 2 Aug 1905? | fl.1 Oct 2016 | 111 years, 59 days? | USA |
| Antonina Llatino [64] | F | 7 July 1905? | 27 July 2016 | 111 years, 20 days? | PHL |
| Cathrine Augustin [65] | F | 25 Nov 1905? | fl.26 Nov 2015 | 110 years, 1 days+? | HAI |
Graph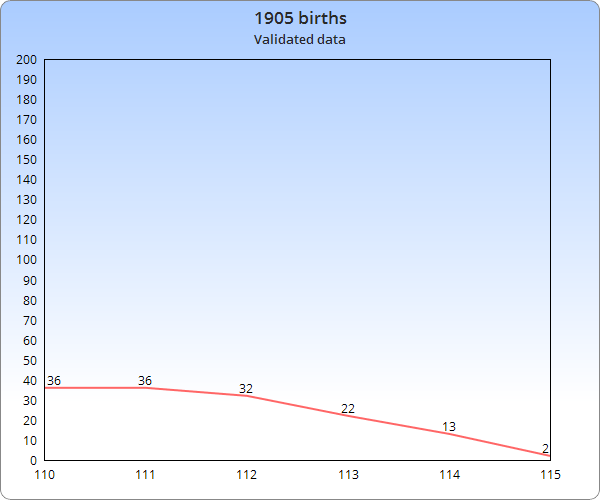 References