Louise Thorne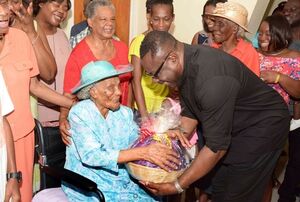 Louise Thorne on her 110th birthday
Unvalidated
Louise Ethelinda Thorne (née Holligan; 1 January 1908 – c. October 2018) was a Barbadian supercentenarian.
Biography
Thorne was born on 1 January 1908. As a young girl, she worked as a baby sitter for a plantation family. She married Alphonsa Thorne in the late 1930s, and they were married until Alphonsa's death in May 2000. They had eight children. Thorne helped her husband work the land raise their livestock, and often took some their produce to the city market.
Thorne has been a devoted Christian for most of her life. She lost her sight in her later years due to glaucoma, but remains mentally alert. She has 22 grandchildren, 26 great-grandchildren, and seven great-great-grandchildren. She died in St George, Barbados, in 2018. Her funeral took place on 16 October 2018.
References