Mahashta Murasi Hoax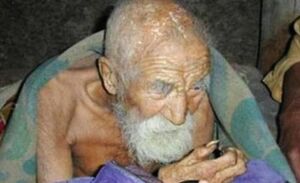 Photo of Bengaluru Murasi, aged 106, were falsely purported to be that of "Mahashta Murasi".
Longevity myth
In 2014, the fake news site World News Daily Report published an article about a longevity claimant, Mahashta Murasi, who was purported to be 179 years-old. Despite being entirely fictitious, this story was circulated widely on the internet as if it were true.
Background
World News Daily Report (WNDR) is a satirical fake news website, whose tagline is "where facts don't matter". On 28 February 2014, WNDR published an article entitled "Indian Man Claims He's 179 Years Old", a fictitious story about a retired cobbler in northern India called Mahashta Murasi, who was claiming to be the world's oldest man. The picture accompanying the article uses photographs of a 106-year-old Indian man named Bengaluru Murasi, an attempt to locate the original source of the image by the blog The Museum of Hoaxes was unsuccessful.
Fictional Biography of Mahashta Murasi
The fictional character who is the subject of the story, Mahashta Murasi, was born on 6 January 1835 in Bangalore, India. He moved to Varanasi, India, in 1903, and worked as a cobbler in the city until 1957, when he retired at the age of 122. He has not seen a doctor since 1971 and has outlived his great-grandchildren.
A quote attributed to the character is "Somehow death forgot about me… And now there's hardly any hope left. Look at the statistics, nobody dies past 150, even less at 170. At that point, I guess I'm immortal or something. I might as well enjoy it!"
Wider Circulation Online
In the months after it was originally published, various versions of the story began circulating online, with several real news sites mistakenly reporting it as if it were factual. One such example was a story in the Indian English-language publication The Deccan Chronicle. The story was also reprinted in other languages, including Italian, Portuguese, and Spanish.
In July 2015, fact-checking website Snopes published an investigative article explaining that the story was fake.
References