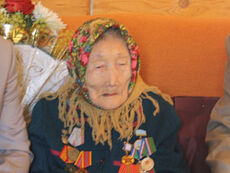 Marfa Vasilyevna Sivtseva (Russian: Марфа Васильевна Сивцева; 5 June 1901 – fl. 19 December 2014) was a Russian supercentenarian whose age is currently unvalidated by the Gerontology Research Group (GRG). If her age was true, she could be oldest person ever born in Russia.
Early life
Marfa Vasilyevna claimed to be born in Cheriktey, Ust-Aldansky District, Sakha Republic, Russian Empire (now Russia). She was youngest child in her family. At the age of 2, she was separated from her brother and sister. Her blind father, after the death of his wife, could not take care of three children. Marfa was adopted. She had stayed in contact with her brother but about the fate of her sister, Martha learned only after her death. Her brother and sister also lived to be really old, but did not become centenarians. In 1942, her husband, Gavrilo Petrovich Sivtsev, disappeared on the battlefield without a trace during the Great Patriotic War (1941-1945). All her life she worked on collective farms of her native Ust-Aldan district. They had 4 children (3 sons and 1 daughter).
Later life
She never drank alcohol but she loved smoking her pipe. Even in her 90s, she continued to help with the housework - milking cows. She celebrated her 100th birthday in her native village, Cheriktey. Even at 102, she was able to help her grandchildren to wash dishes. According to Albina, her grand-daughter, the secret of Marfa longevity can be a healthy lifestyle, healthy and natural food and complacent attitude to people and life. Martha smoked until age of 106. According to relatives, in 2012 her health deteriorated in. She had become tired very quickly, switched to liquid food, but she was able to understand and listened the conversations of his relatives. On her claimed 112th birthday, she had 19 grandchildren, 38 great-grandchildren and 7 great-great-grandchildren.
She was last known to be alive on 19 December 2014 at age of 113 years, 197 days. She lived in Yakutsk. According to reports, she was oldest living person in Sakha Republic.
References