Maria Angelica Ramirez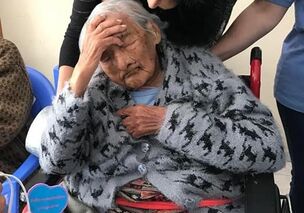 Ramirez Gutierrez in June 2019.
Unvalidated
Maria Angelica Ramirez Gutierrez (born 26 June 1909) is a Bolivian supercentenarian whose age is currently unvalidated by the Gerontology Research Group (GRG). She is the oldest known living person in Bolivia.
Biography
Ramirez Gutierrez was born in Bolivia on 26 June 1909. She dedicated her whole life to sewing, she had a workshop where she has been making wedding dresses.
She moved to a nursing home around 2009. She was able to dance "cueca" at the age of 105. Her niece, Carmen Jimenez, said that Ramirez Gutierrez was always characterized by being good to her nephews since she had no children. She is also knows as "Tia Anquicha". She celebrated her 110th birthday in June 2019.
Ramirez Gutierrez currently lives in Home "San Jose" in Cochabamba, Bolivia at the age of 112 years, 207 days.
Gallery
References