(Adding categories)

(One intermediate revision by the same user not shown)
Line 15:
Line 15:
 

Campbell was born in Texas, United States, on 22 March 1910 as one of 15 children raised on a Bay City cotton farm. He worked on loading and unloading of ships docked in Galveston. He had at least one child, a son.

 

Campbell was born in Texas, United States, on 22 March 1910 as one of 15 children raised on a Bay City cotton farm. He worked on loading and unloading of ships docked in Galveston. He had at least one child, a son.

 
 
−

Five of his siblings lived into their 90s, including his youngest brother, Hurbert, who was alive in March 2018 at the age of 98. He lived on his own up until 2017. He said he credits his long life to his choices, giving up drinking and chugging garlic water, saying he believes it lowered his blood pressure. He also joined the church, and recommended prayer as a secret to his extended life. Campbell celebrated his 110th birthday in March 2020.

+

Five of his siblings lived into their 90s, including his youngest brother, Hurbert, who alive at the age of . He lived on his own up until 2017. He said he credits his long life to his choices, giving up drinking and chugging garlic water, saying he believes it lowered his blood pressure. He also joined the church, and recommended prayer as a secret to his extended life. Campbell celebrated his 110th birthday in March 2020.

 
 
 

Campbell currently lives in Galveston, Texas, United States, at the age of {{AgeYD|1910|3|22}}.

 

Campbell currently lives in Galveston, Texas, United States, at the age of {{AgeYD|1910|3|22}}.

Line 29:
Line 29:
 

*[https://www.fox13news.com/news/texas-man-who-turned-108-floats-along-in-life Texas man who turned 108 'floats along in life'] FOX 13 Tampa Bay, 26 March 2018

 

*[https://www.fox13news.com/news/texas-man-who-turned-108-floats-along-in-life Texas man who turned 108 'floats along in life'] FOX 13 Tampa Bay, 26 March 2018

 

*[https://www.facebook.com/agrigley/posts/10216036035683786 110th birthday] Facebook, 22 March 2020

 

*[https://www.facebook.com/agrigley/posts/10216036035683786 110th birthday] Facebook, 22 March 2020

 
+

*[https://www.khou.com/article/news/local/smiles-and-garlic-pods-la-marque-111-year-old-mans-secrets-to-a-long-and-healthy-life/285-c0c5d2aa-cbe6-4ebd-9f0f-80b391b0fac4 Happy birthday Melvin Campbell of La Marque, who just turned 111] KHOU, 22 March 2021

 
+
 

[[Category:United States births]]

 

[[Category:United States births]]

 

[[Category:Texas births]]

 

[[Category:Texas births]]

 

[[Category:Living people]]

 

[[Category:Living people]]

 

[[Category:African-American supercentenarians]]

 

[[Category:African-American supercentenarians]]

 
+

[[Category:Supercentenarians with centenarian siblings]]
---
Revision as of 14:08, 31 March 2021
Melvin Campbell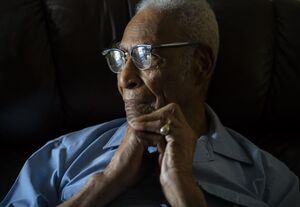 Campbell at the age of 108.
Unvalidated
Melvin Campbell (born 22 March 1910) is an American supercentenarian whose age is currently unvalidated by the Gerontology Research Group (GRG). He is currently the oldest known living man in the US state of Texas.
Biography
Campbell was born in Texas, United States, on 22 March 1910 as one of 15 children raised on a Bay City cotton farm. He worked on loading and unloading of ships docked in Galveston. He had at least one child, a son.
Five of his siblings lived into their 90s, including his youngest brother, Hurbert, who is alive at the age of 101. He lived on his own up until 2017, and drove himself to church until he was 107. He said he credits his long life to his choices, giving up drinking and chugging garlic water, saying he believes it lowered his blood pressure. He also joined the church, and recommended prayer as a secret to his extended life. Campbell celebrated his 110th birthday in March 2020.
Campbell currently lives in Galveston, Texas, United States, at the age of 111 years, 305 days.
Gallery
References