Nettie Whittington


Birth:
31 October 1899
Farmhaven, Mississippi, USA
Death:
24 November 2012
Mississippi, USA
Age:
113 years, 24 days
Country:
USA
Validated
Nettie Whittington (née Williams; 31 October 1899 – 24 November 2012) was an American supercentenarian whose age has been validated by the Gerontology Research Group. She was one of the top 20 oldest validated living people at the time of her death and one of the oldest voters in the 2012 U.S. presidential election.
Biography
Whittington was born in Farmhaven, Mississippi, USA, on 31 October 1899. She was the youngest child of Rev. Allen and Mary Williams. She married Sulm Whittington and had 11 children. He died in 1946, but she continued to work on their farm. She then married Eugene Hart, but he died young too, just 6 months into their marriage. Her hobbies included cooking and making things like quilts, dolls, pillows, and clothes.
At the age of 107, Whittington was still attending church every Sunday and maintained a flower garden. In her centenarian years she appeared in Jet Magazine, on the Oprah Winfrey Show, and on the Today Show with Willard Scott. She also met President Bill Clinton.[1]
On her 113th birthday, Whittington voted for Barack Obama in the 2012 U.S. Presidential election, making her one of the oldest voters.[2] She died less than a month later on 24 November 2012, aged 113 years, 24 days.
Whittington died in Mississippi, USA, on 24 November 2012 at the age of 113 years, 24 days.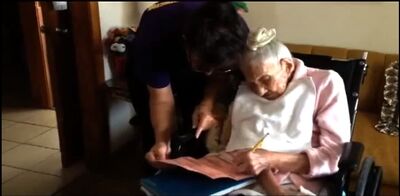 References