Ragndid Slotfeldt-Ellingsen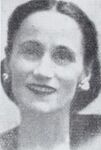 Centenarian
Ragndid Irmelin Slotfeldt-Ellingsen (née Gram; 18 May 1904 – 16 August 2012) was a Norwegian centenarian who was the oldest living person in Norway at the time of her death.
Biography
Ragndid Irmelin Gram was born in Oslo on 18 May 1904. She was a daughter of Karl and Inga Gram. She was married to Erling Slotfeldt-Ellingsen (1899–1995) and had two children. Ragndid was a dancer and studied classic ballet in Paris and Torino.
Slotfeldt-Ellingsen became the oldest living person in Norway on 21 April 2012 upon the death of 109-year old Kristi Oektedalen. Slotfeldt-Ellingsen held the title for 117 days. She died on 16 August 2012 at the age of 108 years, 90 days. Her successor as the oldest person in Norway was Elisabet Ekenaes.
References