Tilahun Woldemichael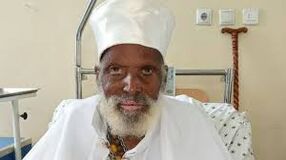 Tilahun Woldemichael at the claimed age of 114 after recovering from COVID-19
Longevity claimant
Tilahun Woldemichael (born 1905/1906?) is a Ethiopian supercentenarian claimant whose age is currently unvalidated by Gerontology Research Group (GRG). If his age would be validated, he would be the second survivor of COVID-19, just behind Lucile Randon.
Biography
Tilahun Woldemichael claims to have been born in Ethiopia on 1905 or 1906. In June 2020. Woldemichael was diagnosed with COVID-19. He later recovered after three weeks of treatment. If his age were confirmed, he would be the oldest survivor of COVID-19 as well as the oldest person to contract COVID-19, he would be too the oldest living man in the world.
Tilahun Woldemichael currently lives in Ethiopia at the claimed age of 115 years.
References